Vicks Warm V745A Humidifier Review 2020
Last Updated: March 16, 2020
Dry air can cause irritated throats, increased susceptibility to infection, intensified asthmatic and allergic reactions, and in certain cases, even bloody noses. To combat this, millions of people worldwide are investing in humidifiers. These devices produce a fine mist, that is taken into the air, thus adding moisture to the local environment. Today, we will […]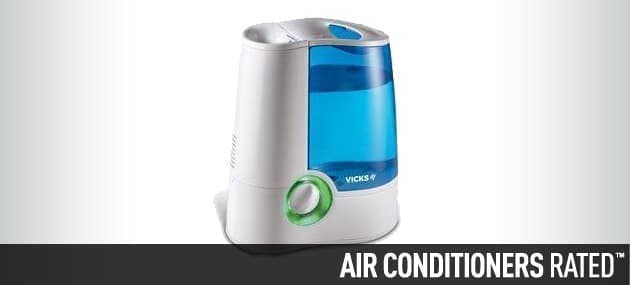 Dry air can cause irritated throats, increased susceptibility to infection, intensified asthmatic and allergic reactions, and in certain cases, even bloody noses. To combat this, millions of people worldwide are investing in humidifiers. These devices produce a fine mist, that is taken into the air, thus adding moisture to the local environment. Today, we will going through our Vicks Warm V745A humidifier Review.
Vicks Warm V745A Humidifier Review 2020
The Vicks brand is known worldwide for their medicinal products that combat cold and flu symptoms. Today we're looking at a humidifier that carries the Vicks name, and judging whether or not this product is up to Vicks' usual high standard.
Humidifying Capabilities
With a tank capacity of one gallon; The Vicks Warm V745A is capable of running for up to 12 hours on one full tank. Filling the air with warm mist. We would recommend this unit for us in smaller living spaces, such as bedrooms , smaller living rooms, etc.
Efficiency
This unit comes with a built-in auto- shut off feature. This allows the model to detect when its running low on water. It will then shut itself off to prevent damage to the device, or using excessive power  for no reason. This unit also has two settings, for optimum user comfort.
Convenience
The Vicks Warm V745A is very quiet. This makes it suitable for use in the bedroom, bathroom, or office. Another useful feature with this unit is the capability to place medicine on the top of the unit, where it will be introduced into the air, supposedly delivering vicks products with ease. Although, we would definitely advise that the user researches this feature before use, as a safety precaution.
Design
Aesthetically speaking, this is a very handsome product. With a transparent blue water tank, the level of moisture in the reservoir is easily monitored. A calming modern colour palate and shape designed by Kaz, in partnership with Proctor & Gamble, will sit comfortably into any contemporary living space. The Vicks V745A also has a built-in night light, to ensure that the user can see the controls of the device in the dark. This is mostly useful if the user wishes to keep the unit operating throughout the night.
Help & Support
As far as customer support is concerned, users can leave comments or reviews on Vicks' website, and usually receive a response. Vicks products also have a Facebook presence. However, as far as the actual Help & Support section of their website is concerned, at the time of writing this review, it was non-existent. A 'Help & Support' section was alluded to, however there were no operational links. There is a FAQs section, and safety information regarding Vicks products, but overall we found Vicks customer support section to be lacking. There is also a possibility, as we witnessed in the case of one poor review, that Vicks will redirect you to Kaz, the manufacturer of the product.
Kaz, on the other hand, can be contacted via Email, and provide downloadable online user manuals, warranty information, and their own FAQ section.
Summary
All aspects of this product considered, the Vicks Warm V745 is a decent product. The ability to introduce Vicks medicinal products to the air may be promising, but we strongly advise users to research this before attempting to put this feature into effect. As far as customer service is concerned, Vicks is severely below average, which is something that we always flag in our reviews as a potential buyers risk when purchasing this product.
Our final verdict is; this product is a decent humidifier. If the information we have provided sounds like something that interests you, we would advise you take it further and carry out some moderate research to discern whether this product is for you. More information on individual customer experience of this product is available via reviews on Amazon and the Vicks website.
If there are too many 'what ifs' about this product for you to be comfortable with, check out our review of this alternate Humidifier; The MistAire Ultrasonic Humidifer.