URPOWER Humidifier Review 2021
Last Updated: January 1, 2021
Millions of people around the globe are availing of the health benefits of humidifiers. Dry air in your living space can cause drying and irritation of the airways, intensified allergic and asthmatic symptoms, increased susceptibility to infection, and in extreme cases, even nose bleeds. Humidifier units are one sure-fire way of countering the effects of […]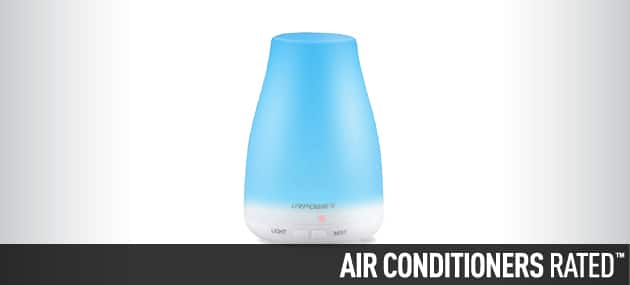 Millions of people around the globe are availing of the health benefits of humidifiers. Dry air in your living space can cause drying and irritation of the airways, intensified allergic and asthmatic symptoms, increased susceptibility to infection, and in extreme cases, even nose bleeds. Humidifier units are one sure-fire way of countering the effects of dry air. Today we will be examining a unique unit that also diffuses fragrance into the air, this is our URPOWER Humidity Review.
URPOWER Humidifier Review 2021
There are many different types of humidifiers, the quietest of which is an ultrasonic humidifier. These units are incredibly quiet, as they utilize high sound waves to vibrate a metal diaphragm to frequencies that human ears cannot hear. As a result of this, moisture is sent into the air in the form of mist, and this is carried out very quietly. The URPOWER Humidifier is one such unit.
Humidifying Capabilities
With a capacity of 100mls, or 0.2 pints approx., this unit is operated by adding water to less than the marked max line, then add 2-3 drops of the essential oil you wish to use. Capable of functioning for up to six hours, this product is not your average humidifier. Rather, this unit is also an oil diffuser, providing a favorable scent for your living space.
Note: If you wish to simply use this product as a humidifier, you do not have to add the essential oils. However, if it is a simple humidifier you are looking for, we would recommend one with a higher water capacity. 
Efficiency
This unit has two built-in settings. Continuous, which will constantly release vapor, and intermittently which will release vapor every 30 seconds. Note that the continuous function will only run for approximately three hours. This device does avail of an automatic shut off safety system, that will detect when the water level within the tank is too low. This is to protect the product from damage. URPOWER warns that users should only use 100% pure essential oils with no corrosivity. Users are also informed that if too much water is added over the max line, the mist will be very thin, therefore less water is better for mist.
Convenience
With programmable on/off cycles, this unit is easy-to-use and allows the user to decide when they would like their dehumidifier to function, even when not at home. The URPOWER Humidifier is also exceptionally quiet, as it utilizes ultrasonic technology.
Design
Design wise, the URPOWER Humidifier is a very attractive device, with seven color changing lights to match your mood, this unit is designed to put the user at ease. Stylish curves, and minimalist design principles, all while producing pleasant fragrances make up a product that is almost zen-like in its sense of tranquility.
Help & Support
URPOWER provides an Email address and a mailing address on their website. They may also be contacted via a dedicated 'Contact Us' page on the same site.
We were unable to acquire any information regarding the warranty of this product.
Summary
In summary, we love this product. However, we would suggest that if it is just a humidifier you are looking for, that you consider a unit with higher specs. The URPOWER Humidifier is more of a luxury product than it is a piece of machinery designed to combat dry air. While this humidifier will produce vapor and tackle the humidity in your living space, its primary use as far as we understand the product is as an oil diffuser. Our main issue is its low water capacity, meaning it will not last as long or produce as much vapor as most other products.
If a tasteful, sleek oil diffuser that doubles as small humidifier interests you, then this product is definitely something you should really consider.