TaoTronics TT-AH001 Humidifier Review 2020
Last Updated: March 16, 2020
There are myriad health benefits to investing in a humidifier. If you live in a dry climate or have a dry-aired home during winter, your health may be affected without you even being aware of it. Cases of excessively dry-air have resulted in irritated airways, intensified asthma and allergic symptoms, increased susceptibility to infection, and […]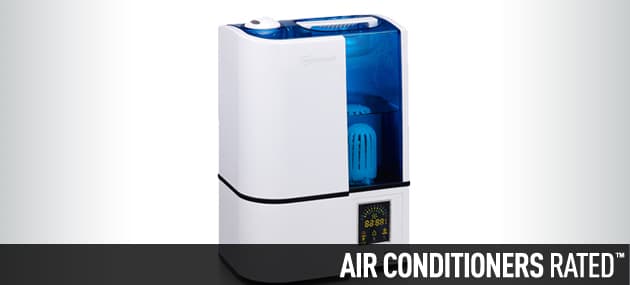 There are myriad health benefits to investing in a humidifier. If you live in a dry climate or have a dry-aired home during winter, your health may be affected without you even being aware of it. Cases of excessively dry-air have resulted in irritated airways, intensified asthma and allergic symptoms, increased susceptibility to infection, and even nose bleeds. A humidifier counters these effects by introducing a fine vapor into the air, thus raising the air's moisture content, and relieving your symptoms. Today we will be discussing the TaoTronics TT-AH001, one such humidifier.
TaoTronics TT-AH001 Humidifier Review 2020
While there are many different types of humidifiers on the market, the TaoTronics TT-AH001 has the advantage of being an ultrasonic humidifier. Such humidifiers utilise high sound waves to vibrate a metal diaphragm to ultrasonic frequencies that the human ear cannot pick up on. As a result of this technology, such units are very quiet.
Humidifying Capabilities
With a water tank volume of approximately 1.056 gallons, this unit is capable of running for a maximum of 15hrs. We would recommend this product for use in small-medium sized living spaces.
Efficiency
The TaoTronics TT-AH001 benefits from an industry standard auto-shutoff feature, which detects when the water level is running low within the device, and initiates a power-off sequence to prevent the unit from short circuiting. As well as this, a 24-hr programmable timer is built-in to the device, so the user can schedule when they want their humidifier in operation throughout the day.
Usually this would be all we would ask of from a humidifier, however, TaoTronics takes it a step further, including a Microporous Cartridge, which filters out microorganisms, and magnesium/calcium ions from the water. This ensures that the mist you are breathing in has been cleaned to a degree. This combined with the 30W power consumption make this product a relatively eco-friendly unit.
Convenience
Controllable humidity means the user has the freedom to set and control the humidity level of their device. Partner this with a 360-degree nozzle that allows the user to control the direction of the mist, as well as the option to choose between three settings sends a clear message to us. TaoTronics evidently cares about their customers, and wants to give the user as much control as possible. The user interface isn't half-bad either, as its a sizeable enough LED display for a unit of the TT-AH001's size.
Design
When speaking of the TT-AH001's aesthetic design that's when our praises dry up. Unfortunately, while the technology behind this unit is undoubtedly some of the best that we have seen integrated into such a small device, the design comes across slightly confused.
The positioning of the LED UI is not exactly where we would have placed it. However it is a high quality user interface. There are some design features such as the lip that juts out from the middle, that we don't entirely understand. For example, the transparent window for monitoring water level could have been designed to be smaller. With the way it is now, we see right into the inner mechanisms of the device, which isn't exactly aesthetically pleasing.
Nevertheless, it must be said, that these criticisms are minor remarks compared to what matters most, performance, at which the TT-AH0001 excels.
Help & Support
TaoTronics backs this product with a product and labor warranty for 12 months from date of purchase. As well as this, an Email support address and Telephone support line are also available to the buyer. A user manual is also available to download from TaoTronics' website.
Summary
In conclusion, the only issue we have with this product is some relatively insignificant aesthetic details. However, with all else considered, we can say that we definitely do recommend this product. However, as always, we are not all-knowing, for more information regarding this product we recommend you have a look at the reviews on Amazon and see how others faired with this product.