Sharp Air Conditioner Review 2020
Last Updated: October 1, 2020
Trapped in the maze of browsing home air conditioners? Check out the Sharp AE-X09PU, for a solution to the Summer heat that is both convenient and efficient.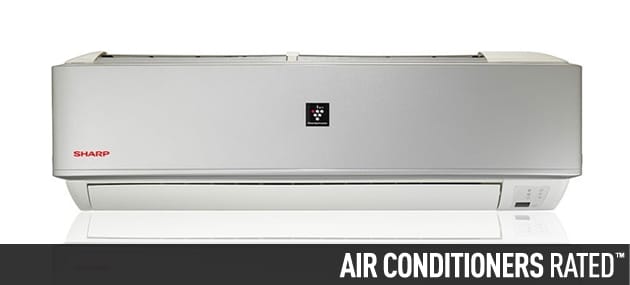 We at Air Conditioners Rated are well acquainted with the high-quality, robust build of Sharp ductless air conditioners. Performing to a high level of efficiency, and bringing ample BTUs to the table to provide effective cooling to all varieties of living spaces, Sharp have reaffirmed their dedication to introducing top-quality air conditioning units to the market time-after-time over the years. Today, we will be reviewing one of Sharp's split system air conditioners, the Sharp AE-X09PU.
Sharp Air Conditioner Review
The Sharp AE-X09PU, just one of Sharp's extensive range of home air conditioning units. Ticking virtually all the boxes, you simply cannot go wrong by investing in this unit. Truly a force to be reckoned with, we recommend you check out our full review below for all the details on this exceptional product.
Cooling Performance
Providing up to 9,000 BTUs of cooling power (or 3/4 ton cooling capacity), the Sharp AE-X09PU is capable of providing cooling services to a large living space, while its Plasmacluster® Ion Technology Air purifying system will clean the air you breathe.
Efficiency & Certifications
The seasonal energy efficiency ratio (SEER) is commonly taken as a measure of the efficiency of an air conditioning unit. Theoretically, the higher the SEER rating, the more efficient the unit. It is of vital importance that you consider the efficiency of a unit before making a purchase as it is this factor that will decide how much money you pay on your energy bills. Fortunately, this particular unit scores an incredibly high SEER rating of 22. Unsurprisingly,the Sharp AE-X09PU is also Energy Star certified, which means it adheres to guidelines set out by the EPA, regarding energy consumption.
Efficient operation is further encouraged with the inclusion of three differing fan speeds, allowing the user to operate their device on a lowered operational setting when full-powered function is not required.
Convenience
With a wide range of convenient features and functions, operation of this device could not be made any easier for the user. A wireless remote control with LCD display makes selecting your favourite mode that bit easier. In addition to this, a number of functional modes allow the operator to draw the performance they need out of their air conditioning unit, and when they need it. Auto mode will detect when temperatures reach an uncomfortable level, and kick in to re-establish optimum temperatures. However, this unit is also capable of providing heating services, and with Sharp's Auto Changeover function, this unit is capable of automatically cooling or heating seamlessly to your preferred temperature.
Another useful function of this device is its Auto Restart capability. What this essentially does is allow the device to automatically reboot itself following a power outage, the benefit here being most apparent when a blackout strikes while you are away. Now you needn't worry about your home going without air conditioning for days on end.
Design
The Sharp AE-X09PU stands as a testament to Sharp's sheer engineering prowess. Every single aspect of this device has clearly been thoroughly thought out. From the special coating on the unit's key components to prevent corrosion, to the auto cleaning capabilities of its utilisation of Plasmacluster Ions to clean the inside of the device to minimise mould growth, this unit is refined to an extent that many manufacturers can only hope to achieve.
However,the Sharp AE-X09PU's notable design features do stop there. To list a few; Dual Drain Setting with drain hoses on either side of the device allow for easier installation, while 5°F Auto Cutoff will power down the unit once the temperature drops too low, to protect itself from freeze damage. The last notable feature we would like to mention is this unit's Plasmacluster Ion Technology. Mentioned above, this unit will release charged ions into the air which will remove airborne allergens, adding an air purifying function of sorts to the already outstanding device.
Dimensions (Inches)
Height: 21.25″
Width: 30.72″
Weight: 79lbs
Help & Support
In the unlikely scenario that you should encounter an issue with your air conditioning unit, Sharp customer service representatives are contactable via telephone and email. In addition to this, numerous online resources, include FAQs and downloadable user manuals and other documents are also available to the user, via the company's website.
Fortunately,the Sharp AE-X09PU benefits from a generous 5-Year compressor warranty plan. For more information we recommend contacting Sharp directly through one of the channels referred to above.
Verdict
In summary, the Sharp AE-X09PU is a success across the board. Efficient, convenient, and effective in performance. While it doesn't have the super-heavy performance output of some other units on the market, if this unit's BTU capacity is suitable for your home, we strongly suggest this unit for installation. It goes without saying that with units like this we strongly advise consulting a specialist prior to purchase, to properly evaluate your home and check if this product would be suitable. Further, it is imperative that you hire a competent and experienced contractor to install the unit. This will effectively minimise risk of faulty installation that may lead to damaging the unit, or your home, which can be quite expensive to remedy.