Senville SENL-09CD Air Conditioner 2020
Last Updated: May 1, 2020
Looking for an air conditioning system to cater to a medium-sized living space? Check out the Senville SENL-09CD ductless mini split, robust, efficient, and effective, you do not want to miss out on this one!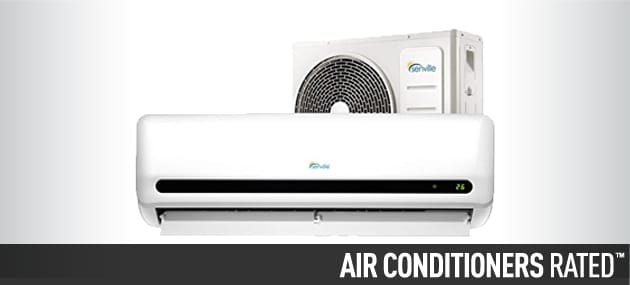 The ductless mini split air conditioning system is an innovative way to bring high-powered cooling to your home. Generally considered to be the "next step up" from portable air conditioners and window-mounted air conditioners, these units are capable of providing a vast range of services, catering to either one room, or in the case of some units, multiple rooms. These systems consist of one internal unit, called the air handler, which is connected to an external unit (the condenser) via tubing and wires, the advantage here is easy installation due to the absence of air ducts. Today our team of HVAC analysts will be taking a look at the Senville SENL-09CD, a moderately powerful mini split air conditioner that sits comfortably in the middle of the market.
Senville SENL-09CD Air Conditioner Review
The Senville SENL-09CD is a sure-fire solution for anyone looking for an air conditioner to effectively cool larger medium-sized living space. It should be stated that when selecting an air conditioner it is wise to choose one as closely suitable to your home as possible. For effective results, do not compromise on your unit, in the false hope that less power will stretch to meet your requirements. Similarly, there is such a thing as too much power, as your unit will not maintain the ideal conditions you seek if the room is not large enough to warrant the output. Check out our full review below for more details.
Cooling Performance
Offering up a moderate 9,000 BTUs of cooling power, the Senville SENL-09CD mini split air conditioner is ideal for residential spaces of up to a range of 450 square feet. Furthermore, with its maximum airflow standing at approximately 265 cubic feet per minute, the Senville SENL-09CD is quite effective at air circulation, allowing the user to benefit from the cooling effects of this unit after a relatively short period of time.
Efficiency / Certifications
When it comes to measuring the efficiency of an air conditioning unit, we at Air Conditioners Rated usually take into account the product's efficiency ratios. In this regard, the Senville SENL-09CD performs quite admirably, scoring an Energy Efficiency Ratio of 10, and a Seasonal Energy Efficiency Ratio of 15. The efficiency of this particular device is yet furthered by the integration of advanced inverter technology in the unit. This essentially allows the unit to control its fan speed, rather than turning on-and-off continuously. This seemingly trivial aspect of this unit's design results in far more energy-efficient performance. Finally, with an ETL certification, the user may rest assured that their unit has been designed and constructed to North American market requirements, meanwhile, the Senville SENL-09CD is also AHRI performance certified.
Convenience
With the inclusion of a wireless infrared remote control, alongside a programmable operational timer, the user is empowered to operate their device their way. Whether you wish to simply input what time of the day you require cooling, or you prefer the manual approach of using the remote, you will find operating the Senville SENL-09CD to be a breeze. Further still, with auto restart capabilities, this unit is capable of automatically rebooting itself following a cut-off of power. This feature proves most useful to those of us who live in environments that suffer frequent blackouts.
Design
With a total unit weight of 86lbs, the Senville-09CD is quite light for a unit of this type. Nevertheless, we strongly recommend hiring an experienced professional to carry out the transport and installation of this device. This minimizes the risk of a botched installation, not to mention the fact that should you carry out the installation yourself, often you may forfeit your warranty coverage. Additionally, with an outdoor noise level of 54dB, this unit is actually quieter than the average human conversation, which usually registers at approximately 60dB. However, the indoor noise level of this unit registers at an even lower rating, with a maximum of 41dB, and a minimum of 26dB, depending on what setting the device is operating on. With regard to room coverage, the Senville-09CD features 2-way directional airflow, with oscillating louvers. This allows the device to evenly spread cooling to all areas of the room. Other design features include a built-in thermostat, a washable anti-bacterial air filter, and weather resistant design in the case of the exterior unit.
Dimensions (Inches) 
Indoor Unit
Height: 11.22″
Width: 28.15″
Depth: 7.68″
Weight: 15.9lbs
Outdoor Unit
Height: 21.85″
Width: 30.31″
Depth: 11.81″
Weight: 61.5lbs
Help & Support
While Senville's customer service network is admittedly lacking in that it misses several of the more modern channels of communication, such as live chat, the company still provides an adequate amount of resources to keep your unit on track. These include experienced customer service representatives contactable via telephone, online contact form, or through one of the company's various social media platforms.
When it comes to warranty coverage, the Senville-09CD is covered by a 1-Year Parts and 5-Years Compressor Toshiba warranty. Relevant user documents relating to warranty specifics, and the overall design and operation of the product are available online.
Verdict
With the Senville-09CD's moderate range of convenient features, and adequate cooling power, this unit is ideal for the mid-range market. While we would have liked to see the unit put out a bit more cooling power, the Senville-09CD is ideal for residential spaces within its suggested range. However, we strongly advise that you consider a more powerful unit, if your living space exceeds 450 square feet, as the larger the room is over this mark, the less effective the Senville-09CD will be at cooling it.