Rheem 2 Ton RA1424AJ1NA Air Conditioner 2020
Last Updated: July 1, 2020
Stuck browsing the convoluted air conditioning market? Can't seem to find a way out? Check out our review of the Rheem 2 Ton central air conditioner, and let us help you find the unit that's right for you.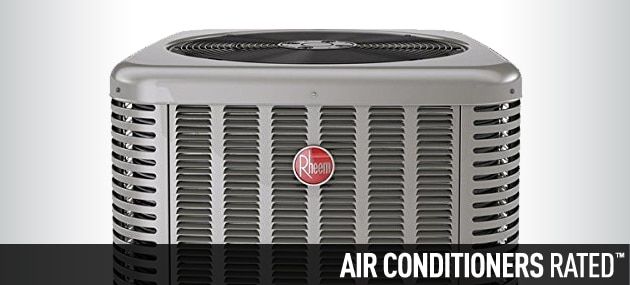 Few brands on the market can boast a reputation as refined and solidify as Rheem's. With an ever-growing catalog of finely tuned and engineered air conditioning units, it's hard to fault these innovative and effective products. In today's review, we will be discussing the Rheem 2 Ton RA1424AJ1NA central air conditioner, weighing up all the pros and cons behind this incredible unit, to help you make an informed decision on which central air conditioner you choose to invest in. Check out our full review below.
Rheem 2 Ton RA1424AJ1NA Air Conditioner
Cooling Performance
The Rheem 2 Ton central air conditioner provides the user with up to 24,000 BTUs of sheer cooling power, making this system the ideal solution for cooling a large residential or commercial property.
Efficiency & Certifications
The Energy Efficiency Ratio (EER) of a unit serves as an accurate measurement of how efficiently an air conditioning unit can be expected to operate. With the industry average standing at 9.7, any unit that scores above 10 is generally considered across the industry to be highly efficient. Therefore, it's good news that this particular Rheem air conditioner scores an EER of 12.5. Additionally, this product's SEER stands at 14-16. Further guaranteeing the Rheem 2 Ton air conditioner's efficient performance is its Energy Star Certification, which states that this unit performs to a level of efficiency that adheres to strict guidelines regarding energy consumption, as published by the Environmental Protection Agency.
Other certifications enjoyed by the Rheem 2 Ton central air conditioning system include being UL-Listed, and AHRI Certified, the former being a prestigious safety certification, the latter guaranteeing that this unit will perform to the extent of its published specifications.
Design
With a powder coat paint system, this unit has a professional and long lasting finish, which further fortifies the device against weathering. Additionally, the Rheem 2 Ton air conditioner's screws are rust resistant, having undergone a 1500-hour salt spray test to ensure resilience. Curved louver panels bolster the cabinet's strength, and protects the interior coil of unit, which is a valuable addition to any air conditioning system. Regarding noise pollution, the Rheem 2 Ton air conditioner registers at a approximately 75.2dBA, which is significantly louder than the average human conversation which usually comes in at about 60dB. However, this level of noise output is relatively standard for this type of unit.
Dimensions (Inches)
Height: 25″
Width: 29.8″
Length: 29.8″ 
Weight: 141lbs
Help &  Support
The Rheem 2 Ton air conditioner benefits from a generous 10-years conditional parts limited warranty plan, provided the user registers the product with the manufacturer. Additionally, numerous resources are provided for the customer's convenience on the company's official website, including in-depth FAQs, and downloadable user manuals. Additionally, company representatives are contactable through online contact form on the company's official website.
Verdict
As is the case with many of Rheem's air conditioning units, the Rheem 2 Ton air conditioner strikes the ideal balance between efficiency and performance. For those out there who seek an effective high powered air conditioner that won't put a hole in their wallet, we certainly recommend considering this unit.