Pure Enrichment PEDEHUM Dehumidifier Review 2020
Last Updated: March 16, 2020
For those on a tight budget who need a reliable appliance to tackle the dampness in their living spaces, we introduce the answer to your prayers—the Pure Enrichment PEDEHUM. This sleek, modern, and effective mini-dehumidifier is just the thing you need.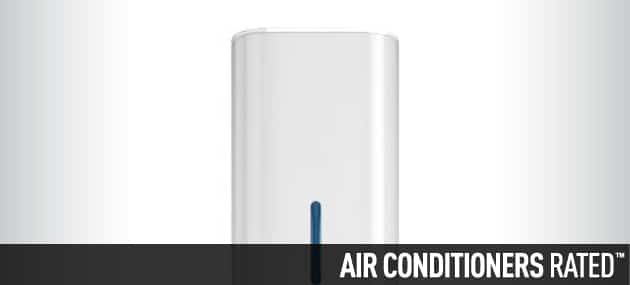 HVAC (Heating, Ventilation, Air Conditioning) technologies are not cheap. We at Air Conditioners Rated are aware of this as much as anyone. However, for those of us on a tight budget, there are several more affordable units out there. While the performance may not be the same as the higher end products that we may review, these units are perfect for preserving your financial security, while also tackling whatever issues may be ailing you at home. Nobody should have to live in damp, regardless of how much cash they have to spare. That's why we have taken a look at the Pure Enrichment PEDEHUM dehumidifier.
Pure Enrichment PEDEHUM Dehumidifier Review 2020
A lower range dehumidifier, the Pure Enrichment PEDEHUM retails for about $100, however, it is often sold for less in sales. We decided we would take a look at this mini-dehumidifier, and bring you all the information you need to make the wise choice as a consumer. We would recommend this product if you have an issue with damp in one particular area of your living space, such as a wardrobe, for example. However, we would advise you that a thermo-electric dehumidifier such as this, is in no way, shape, or form, a replacement for a compressor based dehumidifier. We are talking about a much smaller scale damp problem when we consider thermo-electric dehumidifiers.
Dehumidifying Capabilities
With a rated absorption rate of approximately 10 ounces, or 0.625 pints of water per day, and a tank capacity of 1.68 pints, this is quite a small scale dehumidifier. This unit is not capable of continuous drainage, however, due to its small size, emptying the water tank does not take much effort. We would recommend this unit for use in single, small rooms, or spaces such as wardrobes, etc.
Efficiency & Certifications
The Pure Enrichment PEDEHUM requires 24W of power to function, so as far as energy efficiency is required you needn't worry, this little guy is not going to break the bank. While not certified by the institutions that we would regularly look for when reviewing dehumidifiers (Such as UL, AHAM, Energy Star, etc.), when dealing with mini-dehumidifiers such as this, lack of certifications can be forgiven. While lacking many of the features we would expect from a higher-end dehumidifier, the Pure Enrichment PEDEHUM does have an auto shut-off feature, whereby the unit will power down in the case of the water tank being filled.
Convenience
The convenience of this unit can not be overstated. Due to its small size, the PEDEHUM can be placed virtually anywhere in your home. Areas often plagued by damp such as wardrobes, can now be tackled with precision. By placing this dehumidifier close to the source of your damp problem, you would be surprised at what results you might receive.
The Pure Enrichment PEDEHUM has a removable water tank at its rear, for easy disposal of water. The water tank is also transparent, allowing you to check the level of water in the unit quite easily. This was incredibly useful due to the lack of a water level monitor.
Finally, the PEDEHUM is quiet. Very quiet. We could not find a decibel level specification for the unit, but take our word for it. This unit is definitely appropriate for use in an office or bedroom.
Design
Design wise, the Pure Enrichment is a beauty. With a sleek and minimalist front face, this mini-dehumidifier will sit comfortably in any space. Clean, compact, and smooth, the aesthetic appearance of this unit is appealing to the eye, keeping the functional design features to the rear of the device, concealing them from sight.
While there are no handles or any features to aid portability, the device is easily movable, weighing 3.5lbs. Usually, we would penalize units for not having physical design aspects to aid with portability, however, in this case, a penalty for such an omission would be unfair.
On a side-note, we would like to extend our respect to Pure Enrichment for not cutting corners on the design of their product. The effort that went into making this relatively inexpensive unit visually attractive is admirable.
Help & Support
With regard to help & support, Pure Enrichment has a contact us page on their website, where they guarantee that they will respond to any comments or questions within 48 hours. As well as this, a FAQ page is accessible via a link at the very bottom of the page.
As far as warranties and returns are concerned, Pure Enrichment facilitates a 60-day money back guarantee if you are not completely satisfied with your product.
Unfortunately, we were unable to find any information about an existing warranty on this unit.
Summary
In conclusion, we were very impressed by the Pure Enrichment PEDEHUM. While relatively inexpensive, you can easily tell that Pure Enrichment put effort into this unit, to make it feel like a higher-end product. The sleek design, lack of noise, and easy interface were very satisfying to work with. We would definitely recommend this to anyone who does not wish to stretch their budget to the more expensive units out there.