Pro Breeze PB-02-US Dehumidifier Review 2020
Last Updated: March 16, 2020
The Pro Breeze PB-02-US is perfect for tackling minor damp problems in the home. Check out our reviews team's verdict on one of the best dehumidifiers of 2020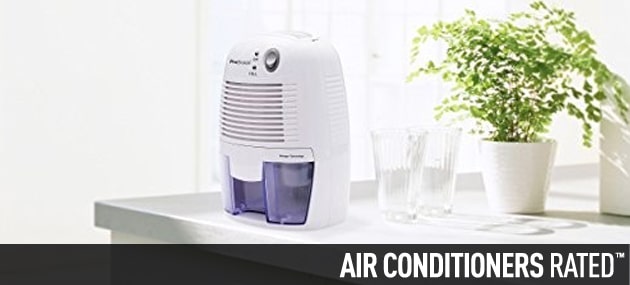 In the competitive market of HVAC (Heating, Ventilation, Air Conditioning) technologies, appliances are becoming increasingly advanced. As a result of this, units such as dehumidifiers are becoming more expensive. Pro Breeze is breaking the mold with its Pro Breeze PB-02-US. Retailing for the astoundingly low price of $79.99, we couldn't resist giving it a look. Welcome to Air Conditioners Rated, this is our Pro Breeze PB-02-US Review.
Pro Breeze PB-02-US Dehumidifier Review 2020
With the prices of HVAC products seeming to be constantly increasing, it may come as a breath of fresh air that we have a dehumidifier for the budgeters out there. Retailing at a full price of $79.99, but often on sale for less, today we are going to be reviewing the Pro Breeze PB-02-US, a mini-dehumidifier that packs a punch nonetheless.
Dehumidifying Capabilities
The Pro Breeze PB-02-US is capable of removing up to nine ounces of moisture from the air a day, with a 16-ounce tank capacity. Translated into our usual measurement, that's 0.56 pints per day, with a tank capacity of one pint. Unfortunately, the PB-02-US is not capable of continuous drainage, however, it is small enough that picking it up and relieving the water in the tank does not take much effort. This dehumidifier is best suited to small spaces, like offices, kitchens, caravans, or garages.
Efficiency & Certifications
As far as energy efficiency is concerned, this unit consumes only 20W. While not Energy Star verified, such certifications are arguably not necessary for a unit as small as this one. Although lower tech than most dehumidifiers we have reviewed on this site, the Pro Breeze PB-02-US still avails of an automatic off function, when nearing water tank capacity. There is also an LED indicator that lights up when the tank is in need of replacing. We were pleasantly surprised that a unit so small and inexpensive had these features.
Convenience
This unit is probably one of the most convenient products we have ever reviewed, for entirely different reasons than most of the other dehumidifiers on this site. The convenience of this unit is that it weighs an almost humorous 2.4lbs. While we would usually criticize units for not having handles, or some sort of physical design feature to aid portability, this unit is so ridiculously portable that we can't honestly fault it for that. Considering that an average cup of coffee ways about 1lb, we can lift two cups of coffee.
The second most convenient aspect of this unit is the price. We understand that the price of a unit is not directly relevant to the experience of convenience when using a product, but for the price of this unit, the act itself of acquiring one has become a convenience factor.
This product is also very quiet. Using "Ultra-Quiet Peltier Whisper Technology", or Thermo-Electric Cooling, this unit does not make much noise. No actual dB ratings were available to us, so we'll just say it's very, very quiet.
Design
The Pro Breeze PB-02-US is small. Compared to other dehumidifiers we have reviewed, this one, in particular, is very small. This is definitely a positive factor, as the PB-02-US can sit comfortably wherever you need it to be. Be it in your wardrobe, on a coffee table, or a windowsill. This unit features a detachable water tank at the bottom-front of the unit, with a vent taking up a large portion of the front face, directly above. As stated above, there are no caster wheels or handles, but this once, we will concede that they are not necessary.
Aesthetically, the Pro Breeze PB-02-US is surprisingly not visually unappealing. A simple interface consisting of a single ON/OFF switch is self-explanatory. The silver-grey and purple palate was a nice choice and allows the unit to blend in most living spaces without ruining décor.
Help & Support
As far as Help & Support are concerned, Pro Breeze can be contacted via the "Contact" page on their website, or by mail to their London address. A user manual also ships with the dehumidifier.
Unfortunately, there is no warranty information available to us regarding this product.
Summary
In summary, if you are in the market for an affordable, functional dehumidifier, we may have found the one for you. With rave reviews online, the Pro Breeze PB-02-US is a very popular product. While incapable of pulling the multiple pints of water out of the air that some of our higher end dehumidifiers can achieve, the PB-02-US is perfect for use in smaller areas, where damp may be a problem. Areas such as wardrobes, or single rooms in particular.