Portacool PACCYC02 Air Conditioner Review 2021
Last Updated: January 1, 2021
Looking for an effective solution for providing cooling services to a hot and dry climate? Check out our review of the Portacool PACCY02 evaporative cooler, a versatile unit that will both combat dry air, while also bringing temperatures down to a comfortable level.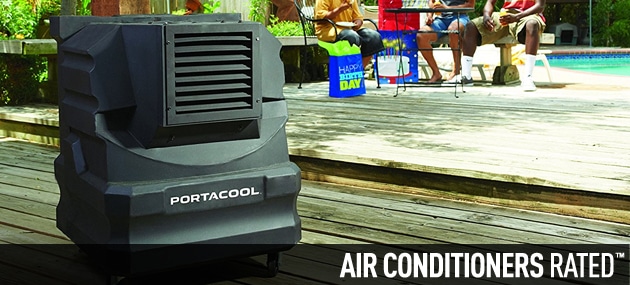 While many traditional air conditioners remove moisture from the air, effectively doubling as a dehumidifier, evaporative coolers or 'swamp' coolers do precisely the opposite. By evaporating water, these innovative products are perfect for dry and hot environments. When the air lacks enough moisture, you may suffer not only from dry skin, dry eyes, and an irritated throat, but you may even suffer from increased susceptibility to infection. However, with an evaporative cooler such as the Portacool PACCYC02 at work, you needn't worry. Further, because of its robust build and impressive output, the Portacool PACCY02 is also capable of functioning as an effective commercial air conditioner, in environments such as factories, warehouses, and garages. On top of this, as this unit is an evaporative cooler, it is also capable of working as an effective outdoor air conditioner. Check out our full review below for our full rundown of this impressively versatile cooling appliance.
Note: If your local climate has a humidity level above 60%, we advise investing in a traditional air conditioner, as this unit may raise humidity levels to an uncomfortable level.
Portacool PACCYC02 Air Conditioner
Cooling Performance
With a maximum airflow of 2,000 cubic feet per minute, the Portacool PACCYC02 is ideal for providing cooling services to spaces of up to 500 square feet. Additionally, because this unit is an evaporative cooler, the Portacool PACCYC02 will effectively carry out humidification services, and is able to provide adequate cooling in outdoor settings.
Convenience
With 2 fan speeds of differing intensity, the user is allowed a choice between two operational capacities. This allows the user to operate their device how they choose, based on the amount of cooling necessary to combat current heat levels. Additionally, the Portacool PACCYC02's adjustable air louvers allow the user to direct airflow in multiple directions, allowing for more even distribution of airflow, allowing for the effects of the unit to be felt far quicker, and over a wider range.
Design
Weighing approximately 61lbs, the Portacool PACCY02 is easily transported from place to place on its heavy duty caster wheels. Additionally, as this unit is constructed of one piece, it is highly resistant to rust and leaks. Further fortifying the Portacool PACCY02 against the elements is its molded polyethylene casing.
Dimensions (Inches)
Height: 31″
Width: 24″
Depth: 25″
Help & Support
Fortunately, the Portacool PACCY02 benefits from a 1-year limited warranty on parts. Furthermore, Portacool supply their users with numerous support resources through their official website including extensive FAQs, tutorial videos, and downloadable user manuals. In the unlikely scenario that you encounter an issue with this unit that requires contacting the manufacturer directly, experienced customer service representatives are contactable via email or telephone.
Verdict
Wrapping up our review of the Portacool PACCY02 evaporative cooler, its plain to see that when it comes to robust design, and convenience, that this unit is sure winner. Providing the user with a moderate range of features and functions, Portacool supply their consumers with a top-notch solution for beating back the Summer heat, and introducing moisture into air when needed. If you live in a hot and arid climate, we recommend at least giving this unit a moment of your consideration.