Midea WPPQ12CR71N Air Conditioner 2020
Last Updated: July 1, 2020
Looking for a portable air conditioner that packs a punch? Check out the Midea WPPQ12CR71N, one of the strongest portable air conditioners we have come across to-date.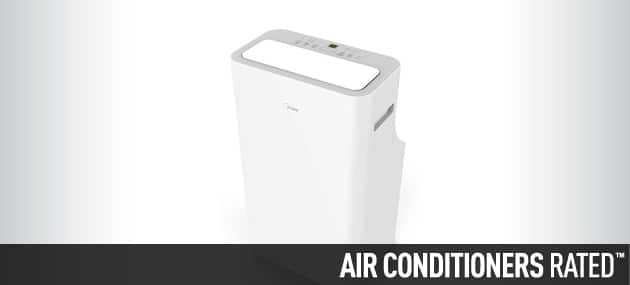 Midea has proven itself time-after-time to be a reliable provider of robustly designed air conditioning units to meet a range of consumer needs. Today our team will be assessing the Midea WPPQ12CR71N portable air conditioner, to see where exactly it fits into the growing Midea catalog of air conditioning appliances. Check out our full review below for more information.
Midea WPPQ12CR71N Air Conditioner
Thie Midea WPPQ12CR71N is certainly in the higher end of the market with regard to raw cooling power. Unwieldy though the name may be, we can assure you that this unit comes with a range of convenience enhancing features to make operation a breeze. Unfortunately, this unit does suffer from a lack of certifications, however, we have always known Midea to be a reliable and trustworthy brand in the past. To put it simply, this unit is capable of delivering a formidable amount of cooling power and does provide most of the core features we look for in a unit of this caliber, except at a slight cost. Read on to see if this unit is the perfect match for you.
Cooling Performance
The Midea WPPQ12CR71N is one of the more formidable portable air conditioning units on the market today, providing users with a whole 12,000 BTUs of cooling power, making it perfectly suitable for living spaces of up to 550 square feet. With a range and cooling capacity of this caliber, we would recommend this unit for large family living spaces.
Efficiency / Certifications
The Energy Efficiency Ratio (EER) of a product is a reliable measure of a product's operational efficiency. With the industry's average EER standing at about 9.7, any units that score over 10 are generally considered to be highly efficient. With an EER of 8.89, the Midea WPPQ12CR71N is therefore below the industry average in this regard. While this score isn't bad per se, it is not exactly ideal. Regrettably, the Energy Star status of this product was not available to us at the time of this review, however we assume that this unit is not certified, due to its low EER. Efficient operation is further supported with the inclusion of two fan speeds, allowing the user to operate their unit on the lower setting when full-power is not required.
There was no other certification information available to us at the time of this review.
Convenience
With a wireless remote control included with this unit, an operation can be managed from anywhere in the room, which is essential for convenient use. Arguably the most important, and overlooked convenient feature of an HVAC product, not all devices include wireless remote control and take it from us, it is a feature that is missed in its absence.
In addition to this, the Midea WPPQ12CR71N comes with a built-in 24-hour programmable timer, enabling the user to input times of operation into their unit, which is especially useful if you spend extended periods of time out of the house. Instead of having to leave your unit running, thus costing you more on your energy bills, now you can schedule your unit to come on for key periods of the day, keeping your home cool and refreshed for when you return.
The next function we'd like to discuss is one that is essential for some people, while others will hardly notice its existence. We are talking of course, about the Auto Restart function. This essentially allows your device to automatically reboot following a power outage, and resume functioning on its previous setting. This feature is essential for those of us living in an area that suffers frequent power blackouts, as, without it, your unit will remain off until you manually restart it, which can be problematic if you are away for a long period of time.
Design
Weighing approximately 72.3lbs, this unit is exceptionally heavy for a portable air conditioner unit, which is undeniably a disadvantage. We strongly suggest seeking assistance during transport or installation of this device, as a safety precaution.
On the bright side, this unit benefits from a 6.56′ cord, which is longer than average, extending the range of possible installation locations in your home. Additionally, an easily understood LED user interface makes the operation of this unit exceptionally easy.
Dimensions (Inches)
Height: 30.7″
Width: 17.9″
Length: 15″
Help & Support
Unfortunately, there was no warranty information regarding this product available to us at the time of this review. This may imply that there is no warranty plan for this product. If you are considering purchasing this product we suggest contacting Midea directly with any questions you might have.
Midea's experienced customer service representatives are contactable via email and telephone.
Verdict
To sum up our review of the Midea WPPQ12CR71N, our verdict is positive overall. However, there are issues with this product, such as its weight, which will make transport and installation tricky. In addition to this, the Midea WPPQ12CR71N unfortunately falls below industry average in its Energy Efficiency Ratio. Finally, there is a distinct lack of certifications or warranty information provided with this product, which is regrettable.
On a positive note, this unit is beautiful in its aesthetic appearance, with a simple white exterior casing and soft beveled corners making the overall device very pleasing to the eye. Furthermore, this unit comes backed with numerous features that improve upon the general user experience, such as the 24-hour programmable timer, and the wireless remote control. It is worth mentioning that the sheer strength of the Midea WPPQ12CR71N is another pro. With 12,000 BTUs of cooling power and a range as wide as 550 square feet, make no mistake, this unit has a few issues, but delivering cooling to your home is not one of them. Therefore, we recommend this unit for installation in large family living spaces.