Midea MWDUK-05CMN1-BCK0 Air Conditioner 2020
Last Updated: July 1, 2020
Are you looking for an easy-install, lightweight window-mounted air conditioner for smaller living spaces, and don't want to fork out your cash for all the bells and whistles? Check out the Midea MWDUK-05CMN10-BCK0.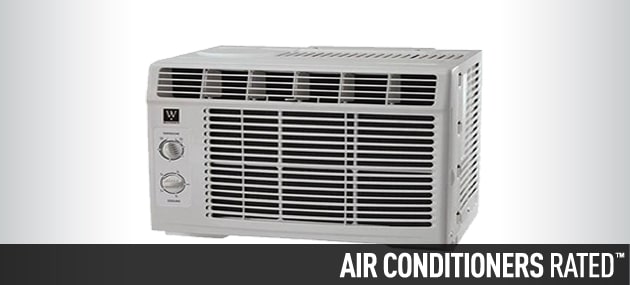 Midea has made quite the name for themselves in the HVAC (Heating, Ventilation, Air Conditioning) industry, carving out an international market slot for themselves, and sustaining an impressive global operation for many years now. Having proven themselves to be providers of high-quality home air conditioning units, today one such unit falls under the scrutiny of our expert review team here at Air Conditioners Rated. Continue reading this article for our Midea MWDUK-05CMN10-BCK0 window-mounted air conditioner review.
Midea MWDUK-05CMN1-BCK0 Air Conditioner
The Midea MWDUK-05CMN10-BCK0 is not an ultra-refined piece of air conditioning technology. Instead, we'd like to introduce you to an alternative. If you have a small living space that you'd like to cool, but you don't want to fork out for one of the larger, more advanced units that usually cost quite the sum, you should definitely give this unit a moment of your time. Retailing for about $162.16, this unit is definitely a cash-saver. Lightweight, and smaller than most units, the Midea MWDUK-05CMN10-BCK0 is capable of pumping out 5,000 BTUs of cooling force, without any of the more advanced features that usually accompany the more expensive units.
Cooling Performance
With 5,000 BTUs of cooling power behind it, the Midea MWDUK-05CMN1-BCK0 is certainly not a unit for larger living spaces. Instead, this product is a cost-effective alternative to the more pricey units on the market, an ideal choice if you have a small space that you need to be cooled during the summer months. With an estimated cooling area of up to 150 square feet, we would certainly recommend this unit for installation in rooms of up to this size, however, we would strongly advise against installing this unit in larger rooms.
Efficiency / Certifications
The Energy Efficiency Ratio (EER) of a unit rates how well a unit performs, taking into account the amount of energy it consumes, against its output. With the industry average standing at 9.7, any product that scores an EER above 10 would be considered a highly efficient product. The Midea MWDUK-05CMN1-BCK0 boasts an EER of 10.7, declaring itself as a very efficient window-mounted air conditioner.
Unfortunately, this product's Energy Star status was undisclosed at the time of this review, however, this product's high EER may be taken as a sufficient guarantee of efficient unit performance.
The efficient operation of this unit is enabled with the inclusion of 2 fan-speeds, allowing the user to operate the Midea MWDUK-05CMN10-BCK0 on a lower setting when full-powered performance is not required.
Regrettably, there were no other certification details available regarding this unit at the time of this review.
Design
The Midea MWDUK-05CMN10-BCK0 is easily one of the lightest weight window-mounted air conditioner units of those we have rated at Air Conditioners Rated. Weighing 39.68lbs, this unit is not exactly "light", however by comparison to other units that usually weigh above the 60lb mark, this unit is easily installed or transported.
Reviewing this product from an aesthetics viewpoint, it's a reasonably basic window-mount design, with a large front vent accompanied by a basic mechanical control panel to the left, with two dials for adjusting performance. It bears noting that window-mounted air conditioners are exceptionally limited in their design as they require their front face to largely be dominated by the air vent.
Dimensions (Inches):
Width: 15.98″
Height: 13.19″
Depth: 12.05″
Window Size (Min/Max): 23″ – 36″
Help & Support
The Midea MWDUK-05CMN10-BCK0 is backed by Midea's 1-year full parts & labor coverage, 5-years carry in sealed system warranty. For more information regarding Midea's warranty policies, we recommend contacting Midea directly.
Customer service representatives for Midea are contactable via telephone and email, however, if speaking directly to a customer service agent is unappealing to you, the company maintains an in-depth FAQ section, along with downloadable user manuals on their official website.
Verdict
To put it simply, this unit has very few convenient features. In fact, this product lacks almost all the features we would look for in a window-mounted air conditioner. However, its low price and high efficiency rating make it perfect for basic functionality. It's clear that the Midea MWDUK-05CMN10-BCK0 was never intended to be a flagship device. What it is intended for, is catering for a small room, providing just the cooling performance required in a simple, and straight-to-the-point manner. If you're looking for a unit that will simply cool a small space, and don't want to fork out your hard earned money for an arsenal of features that you know you won't use anyway, then this is the unit for you.