Midea MWA06CR71-E Air Conditioner 2020
Last Updated: July 1, 2020
Looking for a more affordable window-mounted alternative to the pricier air conditioners of the upper-market? Check out the Midea MWA06CR71-E in our comprehensive buyers review.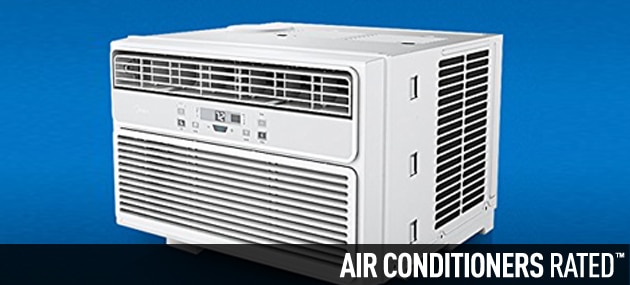 Midea has introduced the market to countless high-quality home HVAC appliances for years now, establishing itself as a manufacturer of efficient, and reliable air conditioner appliances. Today our team will be assessing another addition to their expanding catalog of window-mounted air conditioners; the Midea MWA06CR71-E. Check out our full review below for more details.
Midea MWA06CR71-E Air Conditioner
The Midea MWA06CR71-E provides a moderate 6,000 BTUs of cooling power, making it suitable for a living space of up to 250 square feet. Providing a range of convenient features, combined with highly efficient operation, this unit is a fantastic affordable alternative to some of the more up-market window-mounted units. Continue reading below for more information on this unit under a variety of different criteria.
Cooling Performance
The Midea MWA06CR71-E window-mounted air conditioner is capable of effectively cooling living spaces of up to 250 square feet, providing 6,000 BTUs of raw cooling power. These specifications make this unit the perfect choice for a small living space. This unit will also effectively carry out dehumidifying functions at the same time, however the specific figures relating to the extent to which this unit dehumidifies were not available at the time of this review.
Efficiency / Certifications
The Combined Energy Efficiency Ratio (CEER) of a product is an accurate measurement of how efficiently a product will perform during operation. This figure is obtained taking into account the energy consumed by the unit, and the output it provides. With a CEER rating of 12.1, this unit would be considered highly efficient.
Additionally, this unit benefits from being Energy Star certified. This means that the unit adheres to a set of strict guidelines set out by the Environmental Protection Agency (EPA) regarding energy consumption. The result of this is the Midea MWA06CR71-E will save you a hefty sum of money on your upkeep bills, in the long-term.
Unfortunately, there was no further information available concerning any other certifications, which is a shame, as we would have liked to see a safety-related certification for this unit.
Convenience
A full-function wireless remote control enables the user to operate their device from anywhere in the room. This is especially convenient during those hot Summer days when getting up to change the settings on your air conditioner is the last thing you want to do. Additionally, Midea's EasyTimer allows for planned operation, 24 hours in advance. Combine these features with the SleepWell function, which allows the device to operate without disturbing your sleep, and you have a unit that is exceptionally easy to use.
An Energy Saver Mode will save the user a hefty sum of cash over time, by allowing the unit to power-off automatically periodically, only powering back on if further cooling is required. Another feature we greatly enjoyed was this unit's Auto Setting, which allows the unit to detect when temperatures in the room reach uncomfortable levels, then automatically powering on to re-establish a comfortable environment for you and your loved ones.
Design
Weighing approximately 45lbs, this unit is moderately heavy, and may prove too much for some users, in which case we strongly advise seeking assistance with transport or installation. Additionally, this product's noise level registers between approximately 51.9dB and 56.4dB (A) depending on the setting it is operating on. This is relatively quiet, considering that the average human conversation usually registers at at approximately 60dB.
A 6.5ft. power cord is useful, potentially expanding the range of potential installation locations in your home.
Lastly, adjustable air louvers allow for a more even distribution of airflow throughout your living space.
Dimensions (Inches)
Height: 13.4″
Width: 18.5″
Depth: 15.7″
Window Opening Width (Min/Max): 23″/36″
Window Opening Height: 14″
Help & Support
Should you encounter an issue with this unit, Midea's experienced customer support representatives are contactable via telephone, or email. Other support resources provided by Midea include an in-depth FAQs section, and downloadable user manuals, located on the company's official website.
Unfortunately, there was no warranty information available to us at the time of this review regarding this product's warranty coverage. We advise any potential buyers to contact Midea for more warranty related information.
Verdict
To sum up our thoughts on the Midea MWA06CR71-E, this unit is a clear testament to Midea's commitment to quality and performance. Although we would have liked more information regarding its warranty, and obviously not having a safety certification is not ideal, forgiving these oversights, the Midea MWA06CR71-E is a high-performing, user-friendly product that gets the job done. Our advice? Definitely consider this unit if your living space matches the specifications laid out, however we would recommend contacting Midea directly for more information regarding their warranty plan prior to purchase.