Midea AkW12CR51 Air Conditioner 2020
Last Updated: August 1, 2020
Our team puts the Midea AKW12CR51 to the test, to see how it stands against other window-mounts in the industry. Check out our full air conditioner review.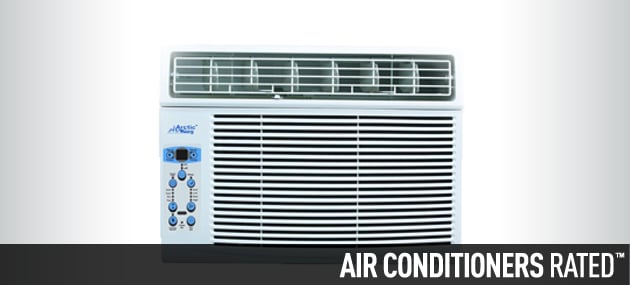 Midea has proven themselves to be a reliable provider of top-quality window-mounted air conditioners for a wide-range of demands, catering for all sizes of family living spaces. Today our team will be reviewing the Midea AKW12CR51 window-mounted air conditioner, which provides an impressive 12,000 BTUs of cooling strength. Coming with a reasonable variety of convenience enhancing features, if you're looking for a window-mount that will cover all bases, you cannot afford to not give this unit a look. Check out our full review below for more details.
Midea AKW12CR51 Air Conditioner
The Midea AKW12CR51 sits comfortably in the middle of upper range window-mounted air conditioners. With all the necessary technical specifications to guarantee you and your loved ones a cool breeze when you need it most, this robustly designed product is an effective alternative to the larger air conditioning systems. With easy installation, we strongly advise that you consider this unit if you require a strong air conditioning unit to help you through the summer months. Our sole concern regarding this unit is its lack of certifications, however, with a reasonable warranty and high Energy Efficiency Ratio, there is a safety blanket, for all those concerned about any lack of guarantees.
Cooling Performance
The Midea AKW12CR51 is capable of providing up to 12,000 BTUs of cooling force, adequately servicing an estimated area of up to 550 square feet. Such power makes this unit a great choice for large living spaces, in a typical family living environment.
Efficiency / Certifications
The Energy Efficiency Ratio (EER) is a measure of how efficiently a device operates compared to others. The industry standard currently stands at about 9.7, with anything scoring over 10 being considered very efficient, therefore, by scoring an impressive 11.3, the Midea AKW12CR51 has proven itself to be incredibly efficient in operation. A feature of this product that aids efficient operation further is its 3 fan-speed settings. These allow the user to draw the performance they require out of their unit, rather than having it continuously operate on full power.
Unfortunately, no information was available regarding this product's Energy Star status at the time of this review. Although, with an EER like this product's, arguably the Energy Star certification is not entirely necessary, although it would be appreciated as an extra guarantee of efficiency.
Convenience
One of the most effective, yet taken-for-granted features of this unit, is its full-function wireless remote control, which makes operation a breeze. Instead of having to get up off the sofa and move across the room to alter the settings on your device, now you can issue commands to your unit from anywhere in the room. Due to wireless remote controls being commonplace in society, this design feature is often overlooked, however our readers would be shocked to know how many units don't include this feature, and how sorely it is missed in its absence.
The Midea AKW12CR51's design also includes a 24-hour programmable timer. You may not think something as trivial as a timer would make much of a difference, but once you begin using this feature you won't stop. The convenience of having your unit automatically operate at key times of the day cannot be overstated. Do you ever come home to a house that's overheated, or stuffy? Set the timer to operate while you are commuting home, to return to a refreshed, and cooled living space.
Auto Restart is one of those features that you don't fully appreciate until you need it. If you suffer from frequent enough power outages, this feature will really shine in your unit, as it will not only automatically reboot your device once power returns, but it will resume operation exactly as it was before the black-out. Imagine you're away for a weekend in the hot mid-summer, and the power goes at home. This feature will automatically re-establish a comfortable living environment as soon as possible.
Finally, this unit benefits from Sleep mode, and Energy Saver mode. These two features are always appreciated, with Sleep mode in particular being a personal favourite of some of us at Air Conditioners Rated. What Sleep mode essentially does is allow the temperature of a living environment to gradually increase, maintaining a comfortable atmosphere, while saving energy, and operating quietly. Energy Saver mode on the other hand, will do exactly what it says on the tin. This mode allows the unit to consume far less energy, usually by periodically powering off, and then back on when necessary.
Design
A slide-out, removable, washable filter means cleaning your units filter has never been easier. This is essential, as without regularly cleaning your filter, the efficient performance of your device will suffer.
Unfortunately, we could not find an exact decibel rating for this device, however, equipped with a rotary compressor, this unit is quieter than many of the other units we have reviewed at Air Conditioners Rated. We didn't mind the noise level from this device, however, from customer reviews there seems to be a divide in this regard. Several people have complained that this unit is too loud, while others find it entirely tolerable. Our recommendation? If you're a light sleeper, or don't like the sound of a fan, do not install this in a bedroom, office, or other space that requires focus and silence.
Weighing 69lbs, this unit is on the heavier side of the middle range of window-mounted air conditioners. We would, as always, advise that you seek aid when transporting or installing this device. While some buyers may be able to lift this unit without help, we strongly advise against it as installation of window-mounts can be awkward at times, and it is best to have another pair of hands to help.
The external design of this product is relatively simple, as most window-mounts are. A large vent at the front delivers cool air, with 4-way directional airflow, which will evenly distribute cooled air throughout your living space. To the left of the vent is a small electric control panel, with buttons for each function. Overall, this design is not incredibly creative, however, due to the functionality of window-mounted air conditioners there is admittedly very little room for artistic flair.
Dimensions (Inches):
Height: 23″
Width: 22.18″
Depth: 17″
Help & Support
Midea customer service representatives are contactable via telephone or email, should you encounter any issues with your device. If you don't wish to speak to a representative for any reason, a detailed FAQs section is available on the company website, alongside downloadable user manuals, which prove to be invaluable in the case of you losing your physical copy.
The Midea AKW12CR51 is backed by Midea's 1-year limited warranty. If you have any queries regarding warranty policy, we recommend contacting Midea directly.
Verdict
While this product is undoubtedly an effective and efficient air conditioner, we would have liked to see more certifications. It may be unfair of us, but we at Air Conditioners Rated want our readers to have peace-of-mind in their purchases. With this in consideration, there's not a huge amount of quality assurance in this product's lack of certifications, or lack of displaying any certifications at the least. However, with Midea's warranty, the product is covered for the first year, which is ample time to figure out how effective this unit is in the meantime. All factors taken into consideration, we still believe this to be a great choice of air conditioner, however we would advise our readers to keep an eye on this device for any unlikely unusual behaviour.