Midea AKW10CR4 Air Conditioner 2020
Last Updated: August 1, 2020
Our team reviews the Midea AKW10CR4 window-mounted air conditioner to bring you all the info you need in order to make an informed decision when browsing the air conditioner market.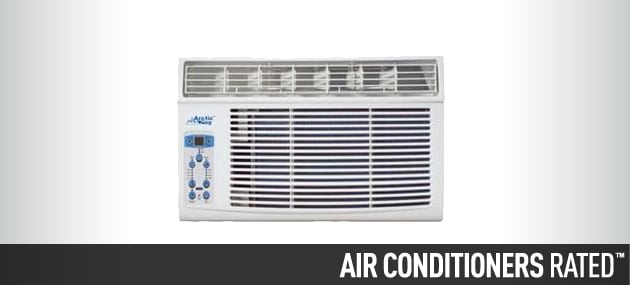 Nowadays, picking an air conditioner unit can be quite difficult. Flooded with technical information, it can be hard to figure out which is the right fit for your needs. It also goes without saying, that we're spoiled for choice with the seemingly endless variety of units out there. However, we're here to try to clear things up for you a bit. Today our team will be reviewing the Midea AKW10CR4 window-mounted air conditioner to bring you all the information you need to know before making an informed decision. Check out our full review below for more details.
Midea AKW10CR4 Air Conditioner
The Midea AKW10CR4 is a formidable air conditioner in a small package. Our team at Air Conditioners Rated undertook a critical analysis of this product, examining how this unit performs under categories such as cooling performance, efficiency, convenience, design, and more. Continue reading below for more information on this impressive unit.
Cooling Performance
With a formidable cooling output of 10,000 British Thermal Units (BTUs), this unit is capable of providing cooling services to an estimated area of up to 450 square feet. Additionally, this unit unit will remove approximately 1.1 pints of moisture from the air per hour, which is admittedly considerably below average for a unit of this type.
Efficiency / Certifications
With a superb Energy Efficiency Ratio (EER) of 12.0, it should come as no surprise that this unit is Energy Star certified, which declares that this product adheres to a strict set of regulations set out by the Environmental Protection Agency (EPA) regarding energy consumption. What this essentially means, is that this device consumes less energy than many other devices of its class. Therefore, operation of this unit will not only be better for the environment by consuming less energy, but it will cost you less on your upkeep bills.
Efficient operation is furthered aided by the inclusion of 3 fan speed settings. This allows the user to draw the performance they require from their unit, rather than having it run on full power consistently, wasting energy.
The Midea AKW10CR4 is also UL-Listed, which means that it has been tested by the industry experts over at Underwriters Laboratories, the results of such assessments concluding that this product is safe for public use. Underwriters Laboratories are respected across the industry, with their certification being one of the most important certifications a unit can obtain.
Convenience
A feature that is almost considered as standard nowadays, although somehow often omitted from the final design of many products, this unit comes with a full-function wireless remote control. This design feature aids convenient operation of the device immensely. As wireless remote controls are quite commonplace in any family home today, this feature is too often overlooked, and our readers would be surprised how many air conditioning units lack this vital piece of equipment. There are several products on the market that would have you move from one side of the room merely to tweak the fan-setting, and trust us when we say, on a hot day, this is the last thing you want to be doing.
Another favourite feature of ours that is included in the Midea AKW10CR4 is the 24-hour programmable timer. The timer allows the user to input scheduled hours of operation, which is useful if you find yourself out of the home often. By setting what times you would like your unit to function, you needn't worry about returning home from work to a stuffy and hot living space.
The Midea AKW10CR4 also avails of auto restart capabilities, enabling the device to automatically reboot itself and resume operation on its previous setting following an unexpected power outage. This is a serious issue for those of us living in areas that suffer frequent electrical blackouts due to sub-standard infrastructure, or natural occurrences. Without this function, the device would remain shut off, and would no longer function, allowing your home to bake under the summer sun. However, with auto restart, as soon as the power returns, so does your unit, getting right back to work from where it left off.
Design
As is usually the case with window-mounted air conditioners, the Midea AKW10CR4 is quite heavy, with the unit weighing 61lbs, with a shipping weight of 70.1lbs. As installation of window-mounted units can be tricky, we strongly recommend seeking aid when transporting / installing this unit, as a precautionary measure.
While no precise decibel rating was available to us at the time of this review, we can testify that the Midea AKW10CR4 is not incredibly loud. Perhaps slightly too loud for the bedroom, however we found no issue with the volume of this device.
A washable filter with easy access allows the user to maintain their unit without having to purchase new filters every time one no longer functions properly. We would certainly recommend cleaning this filter as often as suggested by the manufacturer, as it is imperative for efficient operation that your filter remains clean.
An aspect of this product's design that we particularly admired was its generous power cord length of 6.5 ft. This greatly increases the number of potential locations of installation of this product in the average family home.
Finally, 4-way directional airflow enables this unit to more evenly distribute cooled air from the device to the rest of the room.
Dimensions (Inches):
Width: 19″
Depth: 21.5″
Height: 14.6″
Help & Support
Unfortunately, at the time of this review, there was no warranty information available to us regarding this product. We strongly suggest that any potential buyers out there contact Midea directly for more information regarding warranty policies.
Should you run into an issue with this device, Midea customer service representatives are contactable via email and telephone. Additionally, downloadable user documents and an in-depth FAQs section are provided through the company's official website.
Verdict
In conclusion, we believe this to be a great choice for an affordable window-mounted air conditioner. However, due to the lack of warranty information, we would strongly advise that any potential buyers contact Midea directly, and request a thorough explanation of this product's warranty plan, features, and any other information you would like confirmed. Overall though, we would recommend this product for installation in rooms up to the estimated area it services.