LG LW6017R Air Conditioner
Last Updated: March 31, 2021
Looking for a window-mounted air conditioner on a budget? Check out the LG LW6017R, one of the best affordable alternatives on the market today.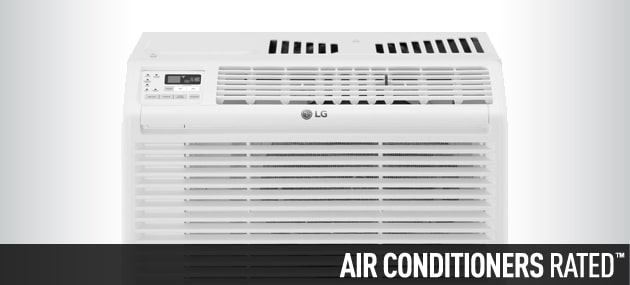 With a brand name recognizable all around the world, its likely that newcomers to the air conditioner market have already encountered LG Electronics before. With catalogs boasting a wide range of electronic appliances, LG has proven their versatility and reliability time and time again. Manufacturing everything from high end smartphones to high definition televisions, to refrigerators, this one brand has shown themselves to be capable of providing high-quality appliances of nearly every variety. Today we will be discussing one of LG's window-mounted air conditioning units; The LG LW6017R. Undoubtedly one of the lower-end window air conditioner units, the LG LW6017R provides us with an affordable alternative to the larger, more expensive units that are commonplace on the market. Continue reading below for more information.
LG LW6017R Air Conditioner Review
Retailing for approximately $189.99, the LG LW6017R serves as an affordable alternative to many of the higher-end units on the market. Although it is certainly not the only affordable alternative on the market, it is one of the very few to retain some of the convenience enhancing features that we've come to love and expect from the more expensive units. Check out our full review below to find out just why we're big fans of this unit.
Cooling Performance
With a moderate 6,000 BTUs of raw cooling strength, the LG LW6017R is certainly not one of LG's strongest units, however, it will effectively service an estimated area of up to 260 square feet. Additionally, with a maximum airflow of 134CFM, this unit is capable of adequately circulating the air of smaller living space, while removing up to an impressive 1.8 pints of moisture from the air each hour.
Efficiency / Certifications
The Energy Efficiency Ratio (EER) of a unit is an adequate measure of how efficiently a product will perform, taking into account the amount of energy it consumes, and the output it provides. With the industry average hovering at approximately 9.7, any unit that scores above the 10 marks is usually considered to be exceptionally efficient. Thus, it's good news that this unit boasts an EER of 11.5, an immensely impressive score for any unit. Efficient operation is further optimized with the inclusion of three different fan speeds, allowing the user to operate their unit on the lowest necessary setting.
Additionally, the Energy Saver Function of this unit allows the user to cut costs on their bills by operating the unit on a lower setting. This is usually achieved by the unit periodically powering off, and back on, when necessary.
Boasting a UL-Listing, this unit comes with one of the key certifications we look for in a home air conditioning unit. Being UL-Listed essentially declares that a unit has been assessed by the industry-renowned experts at Underwriters Laboratories, and have passed every public safety assessment required to earn the listing. Certainly one of the most influential certifications a product can earn itself, the UL-Listing is a guarantee of a product's safety for public use.
Convenience
LG must be accredited for the inclusion of wireless remote control with this unit. A surprisingly common trend in the market nowadays is to release affordable units, that have been entirely stripped of any-and-all convenient features. However, LG understands that just because a unit sells for a lower price-tag does not necessarily mean it can't have any convenient features. While certainly not capable of performing to the same extent as its larger siblings, the LG LW6017R is capable of holding its own against some of the larger units on the market.
Another useful feature that LG, fortunately, included with this unit is its 24-hour programmable timer. The programmable timer is essential for those of us who are frequently out of the house. This feature allows the user to input a schedule of operation into their device, which will dictate when the device will power on or off. The significance of this feature is that it enables your device to maintain a comfortable environment in your home consistently, regardless of whether or not you're at home.
Finally, the LG LW6017R has Auto Restart capability, which essentially allows this unit to automatically power back on following a power outage, and resume functioning on the same setting it was on prior to the blackout. Coupling this feature with the programmable timer is especially effective, as the unit will then effectively maintain a comfortable living environment whenever there is power available.
Design
With a net weight of 39.6lbs (Shipping weight: 44.1lbs), the LG LW6017R is easily one of the lightest window-mounted air conditioners we have come across at Air Conditioners Rated. However, we still would not recommend attempting to transport or install this unit without assistance, as a precautionary measure.
Fortunately, the LG LW6017R is not particularly loud either, with an indoor decibel rating of 52 dBA. This is relatively standard for this type of unit. For reference, the average human conversation registers at approximately 60 dB. With a noise level like this, we would recommend this unit for installation in main living spaces, however, it may not be suitable for bedrooms, offices, or nurseries because of its volume.
2-Way directional airflow allows for slightly more even spread of cooled air, which is a welcome feature on those hot summer afternoons when a unit is expected to cool an entire room quickly.
Dimensions (Inches):
Height: 11.13″
Width: 17.31″
Depth: 14.38″
Window Opening Height (Max/Min): 36″ / 13″
Window Opening Width (Max/Min): 36″ / 22″
Help & Support
LG Electronics maintains one of the most extensive customer service infrastructures we have come across at Air Conditioners Rated. With experienced customer service agents contactable via telephone, email, social media, and live chat, there are plentiful options to get in touch with a helping hand should you encounter issues with this product. If speaking with a customer service agent directly doesn't sound appealing to you, alternatively LG provides resources on their official company website, including a dedicated FAQ section, a troubleshooter, downloadable user manuals, and a "request a repair" section.
This unit is covered by LG's 1-year parts and labor limited warranty. For more information we recommend that potential buyers contact LG directly with any questions that they have, prior to purchase.
Verdict
In summary, our review team unanimously agrees that for the price-tag, the LG LW6017R makes an exceptional choice of window-mounted air conditioner, for rooms of its suggested range. With a respectable number of convenient features included in this product's design, LG must be commended for this affordable alternative to the bigger, more expensive models on the market.