LG LP0817WSR Air Conditioner
Last Updated: June 1, 2020
The portable air conditioning market can get a tad confusing at times, that's why we're here to clear things up for you. Check out our full LG LP0817WSR review for more information.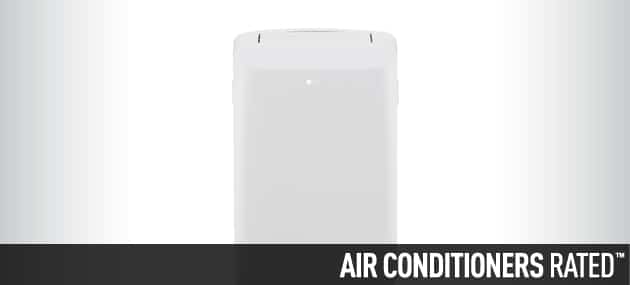 LG Electronics maintains one of the most recognized and well-respected brands of electrical appliance manufacturers in the world. With a dedication to quality of performance and design, this South Korea based corporation is one of the industry's leading brands, paving the way for many other manufacturers. Today, our specialist air conditioner review team are taking a look at the LG Lp0817WSR portable air conditioner, to see how this product measures up to the rest of LG's catalog, to help you make sense of the market, and decide on which air conditioner is the best choice for you.
| | | |
| --- | --- | --- |
| Portable AC Unit | Brand & Model | Check Price |
| | LG LP0817WSR | Check Price > |
LG LP0817WSR Air Conditioner Review
Cooling Performance
Providing a moderate 8,000 BTUs of cooling power, the LG LP0817WSR is suitable for servicing estimated areas of up to 200 square feet, all while removing up to 74.4 pints of moisture from the air per day. We would recommend this unit for installation in small living spaces, ideally in a hot & humid living environment.
Efficiency / Certifications
The Energy Efficiency Ratio (EER) of a unit is a measure of how efficiently a unit will perform, and takes into account the output of the device, and the energy it consumes. The industry's average EER stands currently at 9.7, with any units scoring above 10 being considered highly efficient. While an EER for this product was not readily provided by LG, after some light research our team discovered that this unit holds an EER of 9.0, which is not necessarily "bad", however, it isn't exactly "good" either. This unit does not hold an Energy Star rating either according to LG's official website. However, with the inclusion of 2 fan and cooling speeds, efficient performance can be maintained by operating the device in a lower setting, when the full-powered function is not necessary.
Convenience
The LG LP0817WSR comes with an immensely useful wireless remote control, and a built-in 24-hour timer. The remote control allows the user to issue commands to their device from anywhere in the room, which is an underrated privilege in those hot, sticky summer months. Couple this feature with a fully programmable 24-hour timer, and the result is a device that works around user convenience. The timer essentially enables the user to input what times of the day they would prefer their user to function, which effectively maintains a comfortable environment throughout the day, even when the user is out of the home.
An auto-restart function enables this device to automatically reboot after an unexpected power-outage, and resume functioning on its previous setting. This is especially useful in the case of a black-out while the user is away for a long period of time. Instead of the unit remaining switched-off and allowing conditions to deteriorate, with this function it will get right back to work as soon as power is restored.
Design
When it comes to the design of this product, like an LG appliance, this unit is unsurprisingly convenient, standing on easy-roll caster wheels.
With a decibel rating of 54 dBA, this unit is relatively quiet. For reference, the average human conversation registers at approximately 60 dB. Thus, this unit will not disrupt you as you go about your daily business.
With a unit weight of 58.4lbs and a shipping weight of 69.4lbs, this unit may be awkward to transport for many people. We advise that buyers do not attempt to lift or install this unit without assistance if its weight proves awkward to deal with.
A water full indicator built-into this device notifies the user when the moisture reservoir inside the unit requires emptying. Alternatively, a drainage hose may be connected to this device, to facilitate continuous draining, effectively eliminating the necessity for emptying the tank. However, it should be noted that a drainage hose is not included with this device.
Dimensions (Inches):
Height: 27.36″
Width: 16.93″
Depth: 12.8″
Help & Support
Should you encounter an issue with your unit, LG customer service representatives are contactable via live chat, email, or telephone. If speaking to a representative is not necessary, LG maintains numerous online resources on their official website, including downloadable user manuals that are handy in the case of you misplacing your original physical copy, an in-depth FAQ section, and more.
As far as warranty is concerned, this unit benefits from LG's 1-year limited parts and labor warranty. For more information concerning the company's warranty policy, we recommend contacting LG directly.
Verdict
Overall, we consider this unit a worthy contender with other mid-range portable air conditioning units on the market. Coming loaded with several convenient features, this unit definitely establishes its presence in the market. With its soft white external design, it makes a fine addition to any contemporary living space. Unfortunately, the LG LP0817WSR is slightly lacking in the certifications department, however, we can vouch for the unit's efficient performance and robust build.