Lasko 7050 Air Conditioner 2020
Last Updated: May 1, 2020
Sick of waking up to a dry and sweltering climate, wishing there could be some way to take the edge off the air? Check out the stylish Lasko 7050 Misto evaporative cooler, a unit capable of both cooling, and introducing a bit of moisture into the air.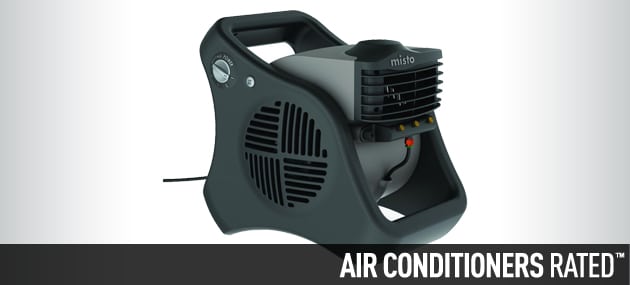 If you live in a hot and arid climate, what you need is an evaporative cooler. This type of product differs from the traditional air conditioner as it cools spaces through the evaporation of water into the air. Therefore, these units are ideal for dry hot climates, where humidity levels are 60% or below. You may be wondering why lack of humidity is problematic, which is to be expected considering that the negative effects of excessive humidity are common knowledge. However, you may be surprised to know just how damaging dry air can be to your health. Dry skin, and eyes, irritable coughs, and even increased susceptibility to infection can all be expected as a result of excessively low humidity levels. Today our team will be assessing a unit that may be able to help, the Lasko 7050 Misto, a quirky little unit that specializes as an outdoor air conditioner. Check out our full review below to see if this product could help you take back your Summer.
Lasko 7050 Misto Air Conditioner
Cooling Performance
While little is known about the Lasko 7050 Misto, we do know that this unit is able to reduce air temperature by about 25 degrees Fahrenheit, which we found to be highly impressive from a unit so small and light. Ideally suited for outdoor settings, the Lasko 7050 Misto is a must-have if you spend a lot of time outdoors during the Summer months.
Efficiency & Certifications
Fortunately, the Lasko 7050 Misto benefits from being ETL Listed, which essentially means that this product has been assessed by professionals, and the results of these assessments concluded that this device was suitable for retail on the north American marketplace. This stands as a general certification that guarantees that the unit will not break with established regulations in any serious way.
Convenience
An auto oscillate mode built-into this device ensures a more even distribution of cooled air, allowing the effects of this device to be felt far quicker and over a wider area, furthering both the convenience and effectiveness of the unit. Additionally, with 3 fan speeds of differing intensity, the user is enabled to draw the performance they need out of their cooler, by choosing between high, medium, and low settings depending on the service required to combat current conditions. Additionally, this function has major benefits for efficiency as well, as the device can be operated on the minimum setting required, thus not wasting energy on constantly running at full speed.
Design
Weighing only 16 lbs, the Lasko 7050 Misto evaporative cooler is easily transported and re-installed where required, with handles on both its top and bottom faces. Additionally, thanks to this design, the device sits quite close to the floor, minimising risk of it being knocked over. Further, the Lasko 7050 Misto is both UV protected and rust resistant, meaning this unit can quite easily stand against the elements and hazards of the outdoor world. Finally, a 9 ft. hose connection makes connecting this product to a steady supply of water should not prove too difficult in most cases.
Dimensions (Inches)
Height: 23.25″
Width: 16.26″
Depth: 14.9″
Help & Support
Fortunately, the Lasko 7050 Misto benefits from a 1-year limited manufacturer warranty plan. In addition to this, Lasko provide their consumers with a large variety of online resources to aid them in operating their new evaporative cooling unit, including downloadable user documents, tutorial videos, and in-depth FAQs. In the unlikely scenario that such resources should fail in solving the issue at hand, Lasko have gone to lengths to ensure that there are experienced customer service representatives on demand, contactable via telephone, email, and live chat.
Verdict
With its streamlined, light-weight design, the Lask 7050 Misto evaporative cooler is the perfect companion for a barbecue or even just a day of relaxation in the sun. This unit's compact design and handles also support portability, allowing the user to easily move this unit from A to B when required. While we would enjoy a few more functions built-into the device, perhaps a wireless remote control, overall the Lasko 7050 Misto gets few complaints from us, as we found it to be highly effective, and would certainly recommend it to anyone looking to take their garden back from the dry Summer months.