Kelvinator Air Conditioner Review
Last Updated: March 24, 2021
Browsing the market for a powerful split system air conditioner? Check out the Kelvinator JS4BE-018KA in our comprehensive buyers guide.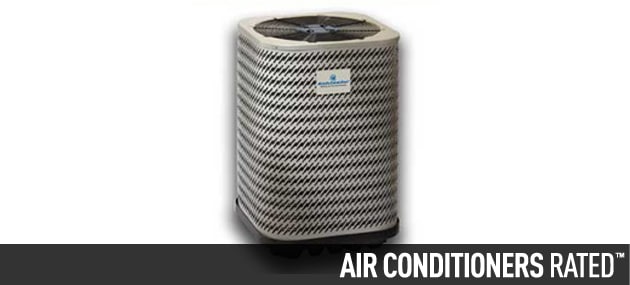 Kelvinator has proven itself to be a reliable manufacturer of high-performing and robustly designed home air conditioning units for years now. Today, to shed a little more light on the HVAC market for our readers, our air conditioner analytics team will be taking an assertive look at the Kelvinator JS4BE-018KA split system air conditioner. While making the jump from window-mounts and portable units to the split system (the next level up in our eyes) can be a little daunting for some, there are certainly benefits to be enjoyed. Read our full review below to see if switching to the Kelvinator JS4BE-018KA central air conditioner might suit your needs.
Kelvinator JS4BE-018KA Split System Air Conditioner Review
As far as split systems are concerned, the Kelvinator JS4BE-018KA ticks all the boxes with regard to cooling capacity, efficiency, convenience, and design. Simply put, this device is ideal for getting the job done. As always, we advise our readers to follow set precautionary measures before investing in a unit of this type, such as measuring your living space in order to ascertain what size of air conditioner is required, and hiring an experienced specialist for installation.
Cooling Performance
This unit is capable of providing up to 18,000 BTUs of cooling power, making it suitable for large living spaces within a range of approximately 1,000 square feet. It is absolutely imperative that you select a unit that provides the optimum amount of BTUs if you want to maximise the efficiency and operational capacities of your air conditioner. There are numerous guides available online that will lay out how many BTUs your  home requires, however you can also hire a specialist to assess your home prior to purchase.
Efficiency / Certifications
The Seasonal Energy Efficiency Ratio is generally the measure by which we gauge how efficient a unit will perform while in operation. In principle, the higher the figure, the better, as the higher the figure the more efficient the unit, and the more efficient the unit, the more money you save on bills. However, oddly enough, the figure being relatively low is  often not a significant issue, as in certain climates, obtaining a unit with a high SEER rating is simply not necessary. Additionally, units with a very high SEER rating are often more expensive than those with a lower rating, so the buyer must ask themselves; are they are really saving any money by opting for a more expensive, 'efficient' unit?
In addition, since 2015, a set of regional SEER minimums have been set in place in the United States, therefore some units are simply not suitable for your area, as they may dip slightly below the minimum requirement. However, with the Kelvinator JS4BE-018KA scoring a SEER of 14 (the highest minimum regional requirement), you needn't worry.
Moving onto certifications, this unit comes ETL certified, which is a significantly positive aspect of the Kelvinator JS4BE-018KA. This guarantees that this product adheres to federal rules and regulations regarding this type of product. Meanwhile, this product also benefits from an AHRI certification, which testifies that the SEER ratings listed are indeed accurate, which is always a nice reassurance with any air conditioning unit.
Convenience
Unfortunately, the Kelvinator JS4BE-018KA lacks most, if not all of the convenient design aspects we would usually look for in a home air conditioning unit. These include features such as the wireless remote control, programmable timer, and a range of operational modes such as sleep mode, fan only mode, etc.
Design
Kelvinator employed some innovative thinking in the design of this product, including equipping the condenser with micro-channel coils which are made of aluminium. This results in the hardware being highly resistant to corrosion. In addition, a metal wrapper will shield the condenser coil from outdoor hazards and weather conditions. The unit produces 74dBs of noise pollution, however this is emitted from the outdoor component of the unit, so operation of the Kelvinator JS4BE-018KA will not disrupt home life while indoors.
We strongly advise hiring a specialist to assess your home before investing in a permanent air conditioning fixture. This will ensure that you make the right decision based on the size of your home, the local climate, and any other variable conditions that might affect your air conditioners performance. Additionally, as the Kelvinator JS4BE-018KA weighs a formidable 223lbs (shipping), we insist that, should you choose this unit, you hire an experienced contractor for installation. This is to ensure that proper installation is carried out without damaging your home, or violating federal regulations. As surprising as it may be, botched home air conditioner installations are common, far too common, and quite expensive to remedy.
See below for a run-down of the specific dimensions of both units of this split system:
Dimensions (Inches)
Outdoor unit
Height: 27″
Width: 22.75″
Depth:  22.75″
Evaporator
Height: 20.75″
Width: 14.25″
Depth: 20.75″
Help & Support
The Kelvinator JS4BE-018KA benefits from a generous 10-years parts and compressor warranty, provided that the user register their unit with the manufacturer.
Additionally, Kelvinator have gone to great lengths to maintain a number of helpful resources for the user to benefit from, accessible via the company's official website. These include extensive FAQs, a troubleshooter, and store locator, alongside a wealth of downloadable user documents detailing everything from warranty information to product-specific manuals.
In the unlikely scenario that you should encounter issues with your air conditioning unit, Kelvinator customer service representatives are contactable via telephone, and online contact-form through the 'Contact Us' page on the company website.
Verdict
To conclude our Kelvinator JS4BE-018KA buyers guide, this device is perfectly suitable for implementation in a family residential setting. With its high BTU output, the JS4BE-018KA is capable of providing adequate cooling to large spaces, while its certifications allow the user peace-of-mind in the knowledge that their air conditioner will function as promised. Unfortunately, the Kelvinator JS4BE-018KA does lack numerous convenient features which we would have enjoyed seeing implemented in the final design, this unit excels nonetheless on its sheer ability to establish a cool and comfortable environment.