Ivation IVADM45 Dehumidifier Review 2020
Last Updated: March 16, 2020
The Ivation IVADM45 is a sleek alternative to larger dehumidifiers and won't stretch a tight budget. Our team places it among the best dehumidifiers of 2020.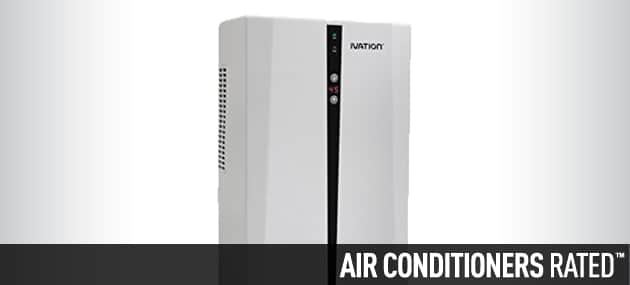 With HVAC (Heating, Ventilation, Air Conditioning) products seemingly becoming more and more expensive, many of us who cannot afford the sky-high prices of the top-of-the-range products seem to believe that we can do nothing about ailments at home such as damp. However, we at Air Conditioners Rated are here to tell you that no one should be forced to live in damp conditions and that there are more affordable options available out there. This is our Ivation IVADM45 dehumidifier review.
Ivation IVADM45 Dehumidifier Review 2020
Retailing for about $100, the Ivation IVADM45 mini-dehumidifier is a sleek, small alternative to the bigger dehumidifiers out there, and today we're going to be taking a look at its specifications to provide you with all the information you need, to make a wise choice as a consumer. While you will not get the same results from a thermo-electric dehumidifier as you would from the more expensive compressor based dehumidifiers, if your damp problems are not widespread, this product may suit you perfectly.
Dehumidifying Capabilities
Using thermo-electric Peltier module technology, this unit is capable of pulling approximately 25 ounces, or  1.56 pints of water from the air daily. The Ivation IVADM45 is a good choice if you have a relatively small damp problem. The specs of this product state that it is suitable of spaces up to 2,200 cubic feet, however varied reviews cite issues encountered down the line with this product. We would highly recommend that you read these reviews before considering a purchase. With a removable water tank with a capacity of 2 litres, holding approximately 2.5 days worth of water, you won't have to empty the tank as often with this product, as you would with some of the other thermo-electric dehumidifiers we have reviewed.
Efficiency & Certifications
Requiring a 60W power source, this mini-dehumidifier demands a relatively substantial amount of power when compared to other thermo-electric dehumidifiers, however, it is more effective. While this product has not received any of the certifications from the institutions we would expect of a compressor based dehumidifier, this is nothing to worry about, as most thermo-electric dehumidifiers do not.
Convenience
With a removable water reservoir, emptying this unit requires very little effort. This transparent water tank at the rear face of the device allows for water level monitoring. This unit also contains an auto Humidistat function, where you can input your desired relative humidity level in the range of 40% – 80%. Once humidity levels rise above your desired level, the unit will automatically turn on, conversely, if humidity levels dip below the desired level, the unit will turn off. This is a useful feature that not many thermo-electric dehumidifiers include.
Weighing at 6.95lbs, with dimensions of 8.6 x 7 x 13.8 inches, this product is slightly larger and heavier than some other thermo-electric dehumidifiers. However, it is not a significant enough increase in weight or size to affect how the product functions in relation to other thermo-electric models. It is still a significantly portable product.
An auto shut-off function is also integrated into this unit, whereby upon the water tank reaching capacity, the dehumidifier will power off, preventing overflow. This function is vital, however we have yet to come across a dehumidifier without this function, so it is nothing to be overly appreciative of.
An added bonus to this product is the level of noise it produces. Incorporating "Whisper quiet" Peltier technology, you don't have to worry about this unit creating a lot of irritating noise.
Design
With an attractive front face consisting of two arrows for configuring the humidistat, and two LEDs (one to indicate the unit is ON, the other to indicate that it is FULL), this unit is adequately user-friendly. There are no handles or transport-aiding features to this unit, however due to its relatively light weight, such modifications would be unnecessary.
Aesthetically speaking, the Ivation is acceptably attractive. However, if you require your device to be visually appealing, there are other, more aesthetically pleasing thermo-electric dehumidifiers on the market. That's not to say that this product is badly designed, or visually displeasing, but rather that it is slightly unremarkable.
Help & Support
Ivation is contactable via phone, mail, or email. However, there does not seem to be any live-chat support option on their website, which is a shame.
We were, unfortunately, unable to find warranty information regarding this product, so, as always we would advice you to contact Ivation before purchasing this item.
Summary
The Ivation IVADM45 is a decent alternative to larger dehumidifiers. Although, due to it being a thermo-electric based dehumidifier you will not get the same results that you would get out of compressor-based dehumidifier. All the same, for the price paid, and for the size, this unit performs reasonably well. However, as a bit of advice, if you find yourself willing to spend a lot of money on a thermo-electric unit, at least consider getting a compressor based product for a bit more cash.