Ivation IVADH30PW Dehumidifier Review 2020
Last Updated: March 16, 2020
Our team assesses the best selling Ivation IVADH30PW, analysing its strengths and weaknesses, to provide readers with all the information they need to know when purchasing a dehumidifier in 2020.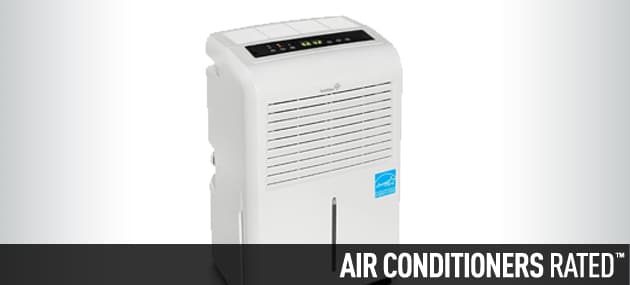 Welcome to Air Conditioners Rated, today we will be reviewing the Ivation 30 Pint dehumidifier. We've reviewed a few products of Ivation's so far, and they've proven to be a solid middle-range manufacturer when it comes to their HVAC (Heating, Ventilation, Air Conditioning) technology. Read on below for our full Ivation 30 Pint Dehumidifier Review.
Ivation IVADH30PW Dehumidifier Review 2020
There are a lot of dehumidifiers out on the market. With so much choice, one may feel almost intimidated by the stress of making the right choice. Do you let your wallet guide you and pick a cheaper dehumidifier? Well no, because it probably won't be very effective. Does that mean you must spend a lot of money to ensure reliable quality? Well, once again no. The trick is, to find a healthy middle-ground, and not to go blindly. Do your research, and you'll find what you're looking for. Ivation has proven to be reliable, without the heavy price-tag. This is our Ivation 30 Pint Dehumidifier Review.
Dehumidifying Capabilities
Capable of removing 30 pints of moisture from the air per day, in areas up to 2,000 sq/ft, the Ivation IVADH30PW is a formidable portable dehumidifier. With optional continuous flow, the IVADH30PW can be set up to do that the user does not have to empty the water tank manually. The water tank's capacity stands at 1.3 gallons, which is quite small and will have to be changed quite often. However, this is arguably a necessary sacrifice, in order to prioritize portability and compactness.
Efficiency & Certifications
A perk of the IVADH30PW is its Eco-Friendliness. Energy Star certified the user can rest assured that this product adheres to energy consumption regulations. Further, the Ivation IVADH30PW has a safety auto-shutoff feature, as well as an auto-restart function. This means that the device will shut off when the water reservoir reaches capacity and that the device will automatically restart in the case of a sudden power outage. The 24-hour programmable timer allows users to schedule when they would like the dehumidifier to function. Combine this with 2 fan speeds for optimum comfort, and an auto-defrost function, this product is as efficient as the average user could ever require it to be.
Convenience
Weighing 30lbs, and easily moved about on four easy-roll casters make transporting this unit about the house a breeze. An easy empty 1.3 gallon water reservoir adds to the convenience of this product. Further, a 6ft. long chord means you are less limited with regard to where in the room you would like to put this unit. A washable air filter means that the user saves money that they would have to spend on new filters otherwise. Simply take the filter out when the machine indicates that it must be washed, and place it back in after rinsing. Partner all of this with a user-friendly LCD interface at the top of the unit, and you have a product that is very convenient to use.
Design
This unit is compact and light. This is very useful as the product can be placed in a room and not dominate a lot of space. Weighing 30lbs, as mentioned above, transporting this unit on its casters takes relatively little effort. The easy-to-remove water tank comes out of a drawer on the front of the unit, allowing for easy access. A transparent water level indicator allows the user to monitor the level of water in the tank which is always a useful feature.
From an aesthetics perspective, this unit falls behind. This product has several strong selling points but unfortunately its appearance is not one of them. With a slightly dated design, this dehumidifier almost resembles those portable heaters that were popular in the 80s and 90s. That's not to say that this is a deal-breaker. The Ivation IVADH30PW is still a fantastic dehumidifier, we just would like to see Ivation's designers try something a little more adventurous next time.
Help & Support
Ivation can be contacted via phone, mail, or email. Their website unfortunately does not offer much help with regards to customer support, so it would seem that contacting a representative would be the best option available to the customer. We were unable to find any information regarding this products warranty, so we would advise that you contact Ivation directly for any details regarding this.
Summary
In summary, the Ivation IVADH30PW is a great mid-range dehumidifier. Its convenient features make it the perfect appliance to just set up, and let it do its job. Our only issues with this particular unit were its design, and the lack of refined customer support services available. The addition of an FAQs section, simple though it may be, would go a long way. We also take slight issue with the fact that warranty information is not provided, or at least if it is, its concealed, as we could not find any information. We would advise our readers that this is a good product, but be sure to contact Ivation before purchasing, to find out any warranty related information you may seek.