Innova Series 3 9,000 BTU Air Conditioner 2021
Last Updated: January 1, 2021
Browsing the air conditioning market can be confusing at times, here at Air Conditioners Rated, it's our mission to make things a little easier for you. Check out our full review of the Innova Series 3 9,000 BTU ductless mini split air conditioner.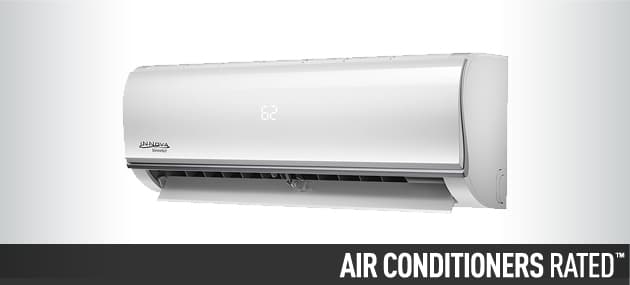 The ductless mini split variant of air conditioner units provides a simplified and affordable alternative to installing a larger, ducted system, which often demands significantly more renovation to the property in question. Consisting of two components connected via wires and refrigerant tubing, ductless air conditioners consist largely of the outdoor condenser, and the indoor air handler. In this review, our team will be taking a look at the Innova Series 3 9,000 BTU air conditioner, to weigh up all the pros and cons behind this unit, and give you an idea of whether or not this product is suitable for your living space.
It is worth noting that as this unit is a ductless air conditioner, and thus far more difficult to install than a window-mount or portable air conditioner, we strongly recommend hiring an experienced professional to minimise risk of a botched job, which can be quite expensive to remedy. Additionally, be warned that should you attempt to install this unit yourself, you may forfeit your warranty coverage, depending on the manufacturer's specific policies.
Innova Series 3 9,000 BTU Air Conditioner Review
An effective 4-in-1 unit, the Innova Series 3 9,000 BTU air conditioner is quite effective in establishing a comfortable environment for you and your loved ones, however it does fail to raise the bar in several categories, which is unfortunate, however these minor issues can be combatted by utilising the unit's features properly. Check out our full review below for all the details.
Cooling Performance
With a moderate 9,000 BTUs of cooling power, the Innova Series 3 9,000 BTU air conditioner is capable of cooling spaces of up to 400 square feet, with a maximum airflow of 480 cubic feet per minute. The benefit of having a unit with a high maximum airflow, is that the higher the airflow, the better a unit is at air circulation and the faster cooling effects can be felt in the room. In addition this unit is capable of providing heating, ventilation, and dehumidifying services to a room, on top of cooling, making this unit an effective 4-in-1 appliance, ideal for installation in climates that vary between hot and cold.
Efficiency & Certifications
The Seasonal Energy Efficiency Ratio (SEER) of a unit provides an accurate measurement of how efficiently you can expect your unit to operate. Taking into account the energy consumption, cooling output, and average seasonal conditions, the higher SEER a unit scores, the better. With a SEER score of 15.2, the Innova Series 3 9,000 BTU is a moderately convenient unit, however unfortunately there are far more efficient appliances on the market. That being said, this unit is significantly more efficient than previous generations of air conditioners to be consider a sufficient upgrade when it comes to efficiency. Additionally, efficient results can be achieved through utilisation of this product's 3 fan settings. Our advice? Use the lowest fan speed necessary to maximise efficient results, and cut costs on your energy bills.
Convenience
When it comes to convenience, this unit comes with a moderate range of handy features, including a full function wireless remote control, allowing the user to change the settings on their air conditioning unit from anywhere in the room. Additionally, the Innova Series 3 9,000 BTU air conditioner comes with a range of convenient operational modes, including sleep mode and turbo mode. Sleep mode allows the device to gradually increase temperatures throughout the night, maintaining a comfortable environment, while conserving energy. Turbo mode enables the unit to function at a higher capacity, delivering quicker results, at the sacrifice of efficiency, so our advice would be to use this function sparingly, as it could negatively affect your energy bills. Further, the Innova Series 3 9,000 BTU ductless mini split benefits from the inclusion of an operational timer, which allows the user to input a timetable of operation into the device, so that it will automatically power on around your daily schedule.
Design
Thanks to integrated Inverter technology, the Innova Series 3 9,000 BTU air conditioner is capable of quiet, efficient operation. This is due to the unit's ability to alter its fan speed, rather than simply turning the unit on or off. Another feature that comes with this product is a relatively simple addition, the remote control holder. While this does not drastically change how you operate your device, it is a useful design aspect that, surprisingly, many units do not include. The copper line set connecting the outside condenser with the indoor air handler is approximately 16 feet long, which should prove to be an adequate length for most installation scenarios, with the drainage hose for excess moisture removal is the same length. Finally, moving onto noise levels, this system's air handler registers at 39dB on a high speed setting, and 29dB on a low setting, while the condenser registers at approximately 56dB. Taking into consideration that the average human conversation generally registers at approximately 60dB, with average whisper volume coming in at 20dB, this mini split system is guaranteed not to disrupt your daily routine with noise pollution.
Dimension (Inches)
Indoor Unit
Height: 10.04
Width: 26.77″
Depth: 7.01″
Weight: 15.43lbs
Outdoor Unit
Height: 21.26″
Width: 25.98″
Depth: 10.43″
Weight: 63.93lbs
Help & Support
The warranty period for the Innova Series 3 9,000 BTU ductless mini split air conditioner covers both parts and labour for 1 year, while the compressor is covered for 5 years. This coverage plan is pretty much industry standard, with many units on the market benefitting from a far longer coverage period, however, a lot of warranty plans out there don't include labour coverage, which is a very useful addition.
Regarding Innova's customer service resources, the company is contactable via telephone, and email. Additionally, Innova supply users with an in-depth FAQs section on their website, alongside numerous informative documents.
Verdict
The Innova Series 3 9,000 BTU ductless mini split may not be the perfect unit, however for the price-tag, we find this unit this system to be well worth the asking price. With refined design features coupled with a moderate variety of convenience-enhancing features, what you see is what you get with this product. While efficiency wise, this unit may be painfully average, however, through clever utilisation of the 3 fan speeds, you can still cut down on your energy bills if needs be. Overall, the Innova Series 3 9,000 BTU is great at establishing a comfortable environment for you and your loved ones, providing cooling or heating when needed, with an excellent air circulation rate, all while removing any excess moisture that may affect user comfort.