Innova Mini Split AC Air Conditioner 2021
Last Updated: January 1, 2021
Stuck browsing the market for an effective mini split air conditioner? Check out our review of the Innova Mini Split Air Conditioner 12,000 BTU.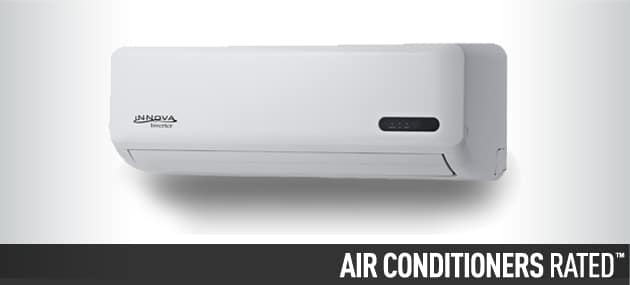 If you find yourself clinging to the shade and desperately fanning yourself in the Summer months in an attempt to stave off the excessive heat? Allow a breath of fresh air into your home with an effective mini split air conditioner. Today we will be reviewing one such unit from the Innova brand, weighing up all its pros and cons, to aid you in making a wise and informed decision based on what unit works best for you and your loved ones. Check out our full Innova mini split air conditioner review below.
Innova Mini Split AC Review
Before we begin, a brief explanation of how a mini split air conditioning system is designed. Basically, there are two major components, a condenser that is attached to the exterior of your property, and an interior air handler. Both of this units are then connected by wires and tubing, which is useful as it saves the user from having to install air ducts for their system to function, which makes installation much easier by comparison. Today, we will be reviewing the 12,000 BTU Innova Mini Split air conditioner.
Cooling Performance
With a moderate 12,000 BTUs of cooling power, this unit is ideal for installation in living spaces of up to 500 square feet. Unlike many units on the market, the Innova 12,000 BTU mini split air conditioner is capable of providing both cooling and heating, while also functioning as a dehumidifier and a fan. It is this multi-functionality that makes the Innova 12,000 BTU an excellent choice for maintaining a comfortable environment for you and your loved ones.
Efficiency & Certifications
Here at Air Conditioners Rated, we tend to measure the efficiency of our units by the relevant figures, as numbers do not lie. The figures we are referring to here, are always the Energy Efficiency Ratio (EER), or the Seasonal Energy Efficiency Ratio (SEER). With an EER of 9, this unit does unfortunately falls lightly below the industry average of 9.7. However that is not to say that this is not an efficient unit, as 9 is still a relatively impressive score when compared to some of the lower-down units on the market. This translates into a SEER score of 16, which is adequate, but relatively far from the top-spot. Furthering the efficiency of this unit, however, is its integrated inverter technology, which allows the12,000 BTU Innova Mini Split air conditioner to vary its fan speed, rather than powering on and off. This helps to prevent wasting energy.
Convenience
With an LED Wireless Remote Control in hand, the user is empowered to use their unit, their way. Further, the inclusion of an operational timer in this product's final design allows the user more control over when and how their air conditioner functions, regardless of whether or not they're in the room. A notable feature of this unit in particular is its highly effective Silent Mode, which is known to decrease noise output from the unit to a stunning 19dB. Bear in mind that the average human whisper registers at approximately 20dB, so when Innova say "Silent", they mean it. Additionally, a Sleep Mode, one of our favourite features, has also been included in this device. This essentially allows the device to slowly increase temperatures throughout the night, maintaining comfort, saving energy, and saving you from awakening to a frigid-cold home. Finally, is Turbo Mode, a feature that we have noticed is becoming increasingly popular in the market. This is an 'overdrive' option for lack of a better word. Enabling Turbo Mode will see faster, stronger results, although usually at the sacrifice of efficiency.
Design
With a noise level of 55dB, the Innova Mini Split air conditioner is relatively quiet compared to many split systems on the market. Keep in mind that the average human conversation usually registers at approximately 60dB. In the case of the Innova Mini Split, the user may benefit from a number of accessories and equipment, including an indoor unit hanging bracket, a remote control holder, a 16 feet line set/control cable/drain hose, and more. With a shipping weight of 95lbs, professional installation of this unit is required. We strongly recommend selecting a contractor that is experienced in installing similar units. This helps to minimise risk of a botched job, that will inevitably result in costing you a hefty sum to remedy.
Help & Support
Innova customer service representatives are contactable via telephone or email, while FAQs and downloadable user documents are accessible through the company's official website. With regard to warranty coverage, the Innova Mini Split air conditioner is covered by a 1-year parts, 5-years compressor warranty.
Verdict
In summary, the Innova Mini Split air conditioner is certainly a formidable choice for providing cooling to a medium-large living space during the hot Summer months. While we would have enjoyed more customer service resources and channels of communication, the Innova Mini Split air conditioner gets the job done effectively, and its robust build makes this unit resistant against every day wear-and-tear. Once again, we must insist that a competent and experienced professional carry out the installation of this unit, for safety purposes.