Honeywell HUL520W Humidifier Review 2020
Last Updated: March 16, 2020
Dry air can be a nightmare, causing multiple health problems for you and your loved ones. While it may not be very well known, the air that is too dry can lead to intensified asthmatic and allergic symptoms, irritated throats, increased susceptibility to infection, and nose bleeds in some cases. Apart from that, it also […]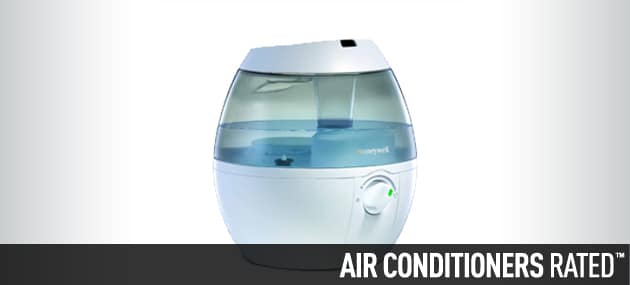 Dry air can be a nightmare, causing multiple health problems for you and your loved ones. While it may not be very well known, the air that is too dry can lead to intensified asthmatic and allergic symptoms, irritated throats, increased susceptibility to infection, and nose bleeds in some cases. Apart from that, it also leads to dry skin and chapped lips. Humidifiers are one way of driving dry air out of your home and your family's life for good.
Honeywell HUL520W Humidifier Review 2020
Humidifying Capabilities
With a tank capacity of 0.5 gallons, the Honeywell HUL520W Humidifier is capable of running for up to 18 hours on a low setting. We would recommend this unit for use in small living spaces such as bathrooms, or medium-small bedrooms.
Efficiency
This unit has an auto shut-off function whereby the humidifier will detect when it is running too low on water, and is in danger of overheating itself. This function is vital for humidifiers as it prevents irreparable damage to the device. This also prevents the unit from using electricity unnecessarily, and so, saves you money.
Convenience
With variable moisture output settings, the user can get the results they require from their device. Furthermore, no filters are required for this unit meaning you won't have to go to the hassle of having to replace them. Another useful aspect of this unit is its small size, weighing only 3lbs, it can be placed almost anywhere in your home, and not demand much space.
Design
The Honeywell HUL520W comes in black, blue, white, and red. Aesthetically speaking, we like the simple design of the user interface. If we had one criticism it would be that it appears quite cheap, but then again, as long as it completes its task, we don't worry ourselves about what it looks like.
Help & Support
As far as Help & Support is concerned, Honeywell have long maintained one of the most comprehensive and in-depth customer service infrastructures that we have come across in this industry. With an FAQs page, and contact details on their website, customers can speak to a representative and receive assistance relating to any stage of their purchase. Be it, assistance with ordering, or assistance with returning an item, Honeywell has a vast network of support staff.
This model is also backed by a 2-year limited warranty. Please contact Honeywell for more details.
Summary
In summary, this is a decent humidifier. While there may be some issues with the design being a little cheap, that is merely a matter of taste. As far as performance goes, which is the really important aspect of a humidifier unit, we have not discovered any issues regarding the Honeywell HUL520W. As always we would encourage our readers to do their own individual research, so that you can be doubly sure that you have found the right unit for you.