Honeywell HCM350W Humidifier Review 2020
Last Updated: March 16, 2020
Humidifiers are units that emit vapour into the air of your home to prevent dry air. Air that becomes too dry can have various negative effects on your health, and the health of anyone else living with you. These effects include, but are not limited to, dried airways (irritated throat), intensified asthmatic and allergic symptoms, […]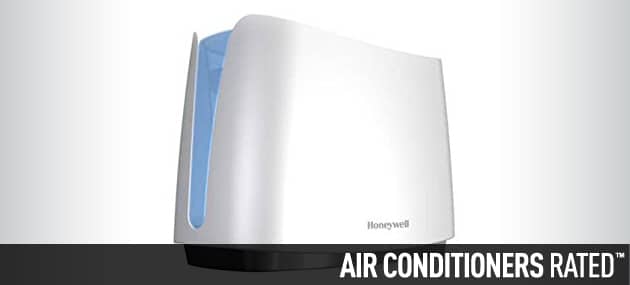 Humidifiers are units that emit vapour into the air of your home to prevent dry air. Air that becomes too dry can have various negative effects on your health, and the health of anyone else living with you. These effects include, but are not limited to, dried airways (irritated throat), intensified asthmatic and allergic symptoms, increased susceptibility to infection, and in some cases nose bleeds. Dry air can also cause dry skin, and chapped lips. Today, we are going to be reviewing the Honeywell HCM350W humidifier to see if this is the product for you.
Honeywell HCM350W Humidifier Review 2020
Humidifying Capabilities
With a tank capacity of one gallon, this humidifier has three built-in speed settings, and is capable of functioning for up to 24hrs on the low setting. Putting out very fine invisible vapour, this product comes highly recommend from multiple sources. We would recommend this unit for medium sized rooms.
Efficiency
With this units three settings, the user can get exactly the kind of performance out of their humidifier that they desire. According to Honeywell, their QuietCare performance can be up to 25% quieter than other evaporative humidifiers. Although, there are a few user reviews that have stated otherwise, most conceding that the unit is quiet enough on low and medium settings. The Honeywell HCM350W s also capable of automatically adjusting its output to ensure maximum moisture, although it does not have a built-in humidistat.
Shockingly, this unit does not have an automatic shut-off feature, which is a major drawback. This means that once the unit has exhausted its water supply, you must manually shutdown the device to prevent it from overheating. This is extremely important.
Convenience
This unit is easy to use, with cleaning made simple due to a large hole in the tank. Cleaning the unit is also made quite simple. However, the filters within the machine must be replaced bi-annually to optimise effectiveness. This isn't much of an issue, but note that these filters cannot be a filter made by anyone other than Honeywell. The filters within this unit also need time to dry between uses, which can be a little annoying. Note that this humidifier only produces cool mist. That is not to say that the unit will make your home feel cold, rather the opposite will happen, due to increased moisture levels in the air. However, simply be aware that if it is a large increase in heat you are looking for, this unit may not be capable of delivering such a result.
Design
This design is slick and professional from the outside. Smooth curves and a white  (also available in black) casing make this unit attractive enough to sit into the backdrop of any contemporary dwelling.  However, one problem that has been identified by several buyers of this product is that the water tank seal has a tendency to leak if not extremely tightened. If this happens to you, we advise you contact Honeywell immediately, and they will be happy to resupply you with a properly functioning unit.
Another perk to this device is its mould-inhibiting wicking filter that the water passes through. Partnered with a UV water path, the Honeywell HCM350W is said to keep the vapour it puts out 99.9% free from germs and dust.
Help & Support
As far as Help & Support are concerned, a 3-year limited warranty is offered on this device. As well as this, the Honeywell website provides buyers with a FAQs page, as well as all relevant details on every aspect of their devices, including support lines for ordering items. Honeywell have one of the most in-depth customer services that we have come across in the industry. They are usually contactable via Email, or phone.
Summary
In summary, this product is a great humidifier. However, there are certain drawbacks such as the lack of an auto shutoff function. We highly recommend that potential buyers of this product research the product before purchase, as it would appear from our observations that several people were not overly satisfied with it. This is not to say that the unit is flawed, but rather that it may not be what you are looking for. In a general sense however, we would definitely recommend this product.