hOmeLabs HME020005N Humidifier Review 2020
Last Updated: March 16, 2020
Humidity is often depicted as all-bad. However, this is not the case. Without enough moisture in the air, you run the risk of facing dry air. The effects of this 'dry air' being intensified asthmatic and allergic symptoms, irritated throats, increased susceptibility to infections, and even nose bleeds. The solution to this is humidifiers. By […]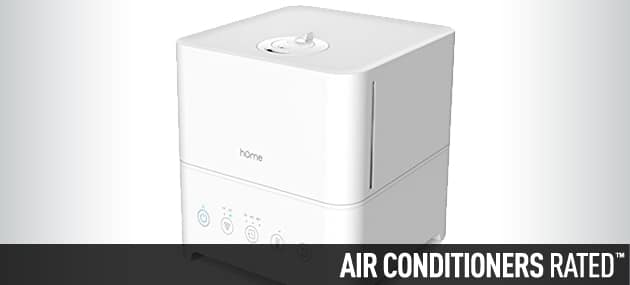 Humidity is often depicted as all-bad. However, this is not the case. Without enough moisture in the air, you run the risk of facing dry air. The effects of this 'dry air' being intensified asthmatic and allergic symptoms, irritated throats, increased susceptibility to infections, and even nose bleeds. The solution to this is humidifiers. By putting vapour back into the air, the best humidifiers can save you from dry air, even curing chapped lips, and dry skin. Today we will be reviewing a product from one of our favourite brands. Welcome to our hOmeLabs HME020005N humidifier Review.
hOmeLabs HME020005N Humidifier Review 2020
Different humidifiers come in all shapes and sizes, with different specifications, designs, and features that set them apart from one another. This unit in particular is an ultrasonic humidifier, which means it uses high sound waves to vibrate a metal diaphragm at frequencies that our ears don't pick up on, producing vapour. This means whisper-quiet operation.
Humidifying Capabilities
With a one gallon water tank capacity, this unit is capable of functioning for a reported up to 12 hours. We would recommend this unit for medium sized living spaces. As well as the dehumidifying capacity of this unit, an oil aroma diffuser is also included in the device, capable of delivering fresh fragrances in your home. There is also an inhaler option, with an internal heating element for boiling water into steam vapour, improving breathing during sickness. This is especially useful for reducing nasal congestion, or flu symptoms.  hOmeLabs warns that distilled water should be used for best results.
Efficiency
An automatic shut-off feature allows this unit to power-down when water levels are running dangerously low in the tank. This is very important for the sake of preserving the unit, preventing damage to its circuits. The user is also enabled to control humidity levels to be between 40% and 70%, based on their own comfort.
Convenience
Using ultrasonic technology, this unit is exceptionally quiet, which means you can have it running while you watch a movie, read a book, or simply have a few friends over. A built-in timer, and child lock are also included for further convenience, as well as a sleep mode (The will run at a lower, more quiet setting).
Design
From a design standpoint, this unit is easily one of the slickest, most professionally designed humidifiers we have reviewed. With an easy to understand touch control panel on the front, and a bevelled cube shape, this product is very attractive. Don't let the minimalist design fool you though, because while this unit makes seem like its your run of the mill humidifier, it is probably the most complex humidifiers we have come across to date, due to the amount of settings provided by hOmeLabs. Another useful utility of this unit is its oil diffuser at the top
Help & Support
hOmeLabs supports a customer support Email address, and a telephone number. Further, hOmeLabs includes an FAQs section, as well as sections to explain warranties and returns in particular. Buyers of this product are also backed by a two-year warranty. hOmeLabs also boasts lifetime technical support for their customers, as long as their products are viably fixed.
Summary
In summary, this unit was probably our favourite of the humidifiers to date. Its slick exterior puts the mind at easy, with bevelled corners. Couple that with the quietness of the device, the health benefits, and the aroma therapy, and you've got a recipe for a good nights sleep.