Haier Serenity 6,000 BTU Air Conditioner 2021
Last Updated: January 1, 2021
Calling all lost air conditioner shoppers! With such a wide variety of AC units on the market today, it's easy to get confused. We're here to make things easier for you. Check out our Haier Serenity 6,000 BTU Review to see what we mean.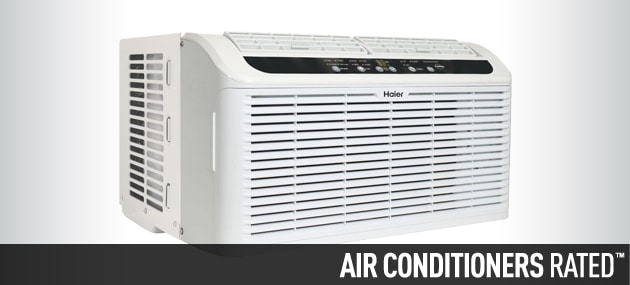 If you're in the market for a mid-range air conditioning unit, check out the Haier Serenity 6,000 BTU window-mounted air conditioner unit. One of the most effective window-mounts of its class, this unit by Haier had us at Air Conditioners Rated deeply and thoroughly impressed with the sheer range of features that are included in the device. While the price-tag may seem a little high considering the BTU output of the unit, if you have a medium sized living space, and you want it cooled, we would strongly suggest you consider this unit. Check out our full review below for more details.
Haier Serenity 6,000 BTU Air Conditioner Review
Cooling Performance
With 6,000BTUs of cooling power in this unit, the Haier Serenity 6,000 BTU window-mounted air conditioner would be a good choice for living spaces of up to 250 square feet. In addition to this, with a maximum airflow of 200cfm, the Haier Serenity 6,000 BTU also doubles as a formidable dehumidifier, removing up to 1.5 pints of moisture from the air per hour. We must say we were very impressed with these units dehumidifying capabilities.
Efficiency / Certifications
With a superb Energy Efficiency Ratio (EER) of 12.2, it should come as no surprise that this unit is Energy Star Certified. For reference, the industry average currently stands at about 9.7, with any units scoring over ten being considered very efficient. The efficiency of this unit is furthered by its flexible speed options, which include Auto, Quiet, Medium, and High. This allows the user to conserve energy by having their device function on a low setting when its full power is not required.
Unfortunately, no information was available relating to any other certifications at the time of this review, implying that this product lacks a UL or AHAM certification.
Convenience
The Haier Serenity 6,000 BTU comes with an easy-to-use remote control, allowing you to control the settings of your air conditioner from anywhere in the room, an immensely useful feature, that is often overlooked.
One impressive feature about this unit was Haier's choice to include multiple modes of operation in this device, which we would have classed as a mid-range unit. It is relatively uncommon for a unit of this calibre to include a dehumidify only mode as well as a fan mode and cool mode. Haier deserves credit for going the extra mile in this regard.
The 24-hour timer built-in to this device enables the user to program their device to switch on/off at key parts of the day, for example, cooling your home while you're commuting back from work.
The auto restart function of this device will prove invaluable to those of us who live in an environment that suffers frequent power outages. What this essentially does, is remember its settings when the power is unexpectedly cut. Once power is resumed, the unit will then reboot and resume on the setting it was at before the blackout.
Finally, one of our favourite features, Sleep Mode. This fantastic feature enables the device to slowly allow temperatures to increase overnight, maintaining comfort, yet saving energy. Another plus to this feature is that you don't have to wake up to a freezing home after a night of leaving the air conditioner on.
Design
A dual-motor design allows for advanced air control, while a cross-flow fan allows smoother airflow. 4-Way directional airflow allows for a more even distribution of chilled air throughout your living space. A washable anti-bacterial filter is easily accessible via the front of the unit.
With regards to the exterior of the unit, an electronic control panel with a digital display is located at the top of the device allowing for easy changing of settings if you're standing next to the device. If you're not close enough to change the settings via the panel on the device, the remote is fully functional, with an easily understood layout and clear labelling. Finally, another feature not often recognised but greatly appreciated is the 6-ft. long LCDI power cord that comes with this unit, allowing for easier set up.
Weighing 56lbs, we recommend that you seek help with lifting and installation. While not the heaviest of the units we have reviewed in this class of air conditioner, the size and shape of window-mounts can be awkward to lift.
With an operational noise level of 43dBA, this unit is claimed by Haier to be the "Quietest window AC on the market". While we can't comment on whether or not Haier are correct in this claim, it's pretty much guaranteed that this unit is the quietest window AC units we have reviewed up to this point. For reference, average human conversation registers at about 60dB. If it's peace and quiet you're after, you'd struggle to find a better choice than the Haier Serenity 6,000 BTU.
Dimensions (Inches)
Width: 21.24″
Depth: 18.13″
Height: 12.44″
Window Height: 13-3/8″
Window Width (min/max): 26.006″ / 39.25″
Help & Support
The Haier Serenity 6,000 BTU is backed by a 1-year parts and labor warranty. Haier have an immensely helpful customer service infrastructure on their website. Representatives are contactable via telephone, email, online message, live chat, and social media. With everything from FAQs, to a library full of demos relating to different products, to downloadable user manuals and documents. One thing is immediately apparent looking at the Haier customer support page; if you run into trouble with a Haier product, you're in good hands.
If you have any questions relating to Haier company warranty policy, we recommend that you contact the company directly, where a representative would be more than happy to help you.
Verdict
In summary, we were very impressed with this product. Although it's a smaller unit, Haier clearly put a lot of work into its design, not only ensuring that it works, but refining how it works. In fact, we'd  even go so far as to say that this unit is one of our absolute favourite 6,000 BTU units.