Haier ESA406R 6,000 BTU Air Conditioner 2021
Last Updated: January 1, 2021
Let's be honest, the Air Conditioner market is confusing. Well, we're here to lend a hand, check out our review of the Haier ESA406R. Who knows, this could be the one.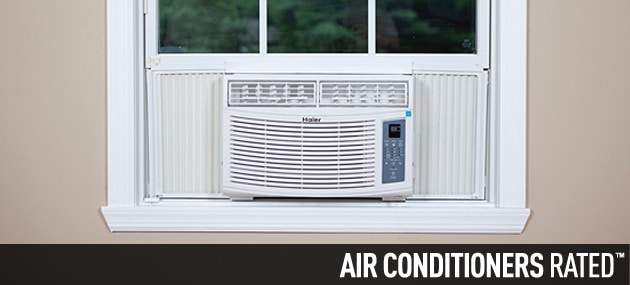 We have reviewed several products released by Haier, and have yet to encounter one we did not like. They have maintained an elevated standard, providing the public with top-quality products for years now. However, with such a reputation comes a lot of pressure to maintain their streak of wins. We're here today to peel away the technical jargon surrounding the Haier ESA406R window-mounted air conditioner and see if it can keep up with the terrific products that precede it. Continue reading below for all the details.
Haier ESA406R 6,000 BTU Air Conditioner
Cooling Performance
Servicing an area of up to 250 square feet with 6,000 BTUs of cooling power, we have the Haier ESA406R. With a maximum airflow of 175 cubic feet per minute, this unit is also a widely effective dehumidifier, removing 38.5 pints of moisture from the air every 24hrs. We would recommend this unit for installation in small living spaces.
Efficiency / Certifications
The Haier ESA406R enjoys a spectacular Energy Efficiency Ratio (EER) of 12.2, which stands tall above the industry average of 9.7. For reference, units that score over ten are considered to be very efficient. With such a high EER, this unit is also Energy Star Certified, which means it adheres to the regulations set out by the EPA regarding energy consumption and runs more efficiently than a large percentage of the machines on the market. The advantages of owning an efficient unit are that it will cost you less to run the device, and it's better for the environment, which is always a plus with us. 3 Fan speeds also add to the efficient operation of this device, as the user is able to use the lower settings, consuming less energy, when less cooling power is required.
Other certifications this unit has earned include the AHAM verification, and being UL-Listed. The AHAM verification declares that this unit performs to the extent alluded to in the specifications published by the manufacturer. The UL-Listing on the other hand, informs us that this unit has been assessed by the world renowned experts at Underwriters Laboratories, such assessments concluding that this unit is safe for public use.
Convenience
This unit has a variety of convenient features, beginning with the inclusion of wireless remote control. This allows the user to control which settings the unit is operating on, from anywhere in the room.
Furthermore, a 24-hour programmable timer means that the user can input when exactly during the day they'd like their unit to function, independently. This is especially useful to those of us who spend a lot of time out of the house, causing it to heat up because we're not there to turn on the AC. Now you can program your AC to power-on by itself, before you get home.
Finally, a Sleep Mode enables the device to slowly increase temperatures throughout the night, maintaining a comfortable atmosphere, while consuming less energy by operating to a lowered capacity.
Design
The Haier ESA406R has several design features that we look for in a window-mounted air conditioner. 4-Way air direction control allows the operator to control where the airflow of the unit is directed, whether they want an even coverage of the room, or if they want to channel the airflow in one direction, is up to them.
Weighing approximately 46.5lbs, this unit is on the lighter-side of window-mounted air conditioners. Regardless, we would advise our readers to avoid lifting or installing this device without help if they find this device to be too heavy.
With an electronic digital control panel on the front face of this unit, the operation of the Haier ESA406R could not be made any easier.
Dimensions (Inches)
Height: 12.4″
Width: 18.5″
Depth: 14″
Minimum Window Width: 24.5″
Minimum Window Height: 13.4″
Help & Support
The Haier ESA406R is covered by a 1-year limited warranty. Those of us who have dealt with Haier's customer service network in the past will testify that they have one of the most advanced, impressive customer service infrastructures in the industry. With representatives contactable via telephone, email, online contact, live chat, and social media.
If talking directly to a representative doesn't sound appealing to you, a detailed FAQ section is also available on their website, alongside downloadable user manuals, demos and tutorials, a Haier service center locator, and much more.
Take it from us, when it comes to customer service, Haier has really put the work in to maintain a fantastic range of options for their customers.
Verdict
Haier are commonly acknowledged as one of the biggest, most trust-worthy brands in the industry, and when they release a product like this, it's not hard to see why. Robust, reliable, and convenient, we enjoyed assessing this unit. Haier really know how to blend simplicity and advanced technology to manufacture user-friendly products that are deceptively advanced pieces of HVAC technology.