Goodman GSX160361 Air Conditioner 2021
Last Updated: January 1, 2021
Check out our review of the Goodman GSX160361 central air conditioner where we weigh up all the pros and cons of this powerful air conditioner.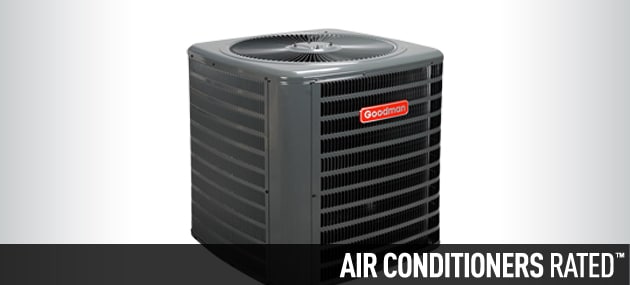 Goodman's air conditioners have consistently reaffirmed their manufacturer's commitment to introducing high-quality, robust, and reliable air conditioning units to the market for years now. Furthering this reputation for reliability is the Goodman GSX160361 3 Ton air conditioning unit. Providing up to 36,000 BTUs of cooling power, this unit is quite effective at establishing comfortable conditions for you and your loved ones, or alternatively in a commercial environment. Either way, when you've got a property to cool, Goodman's got your back. Before we begin our review, we must stress that it is of paramount importance that you hire a specialist to install this type of system to minimize the risk of a botched job. Further, it is strongly advised that you obtain accurate measurements of your living space, in order to determine how much cooling power is required for efficient cooling, so you are enabled to select the right unit for your unique space. With that out of the way, let's get into our Goodman GSX160361 central air conditioner review.
Goodman GSX160361 Air Conditioner
Cooling Performance
The Goodman GSX160361 3 ton air conditioner is capable of providing the user with up to 36,000 BTUs of cooling power, making it ideal for larger sized residential properties, and commercial spaces.
Efficiency & Certifications
The Seasonal Energy Efficiency Ratio (SEER) of a unit provides an accurate representation of how efficiently a unit may be expected to perform while in operation. Taking into account performance output, and energy consumption, tested in a controlled average seasonal environment, the higher this score, the more efficient the unit, and therefore the more money you will save on your energy bills. With a SEER rating of 16, users can rest assured that the Goodman GSX160361 3 ton air conditioner will function effectively, and efficiently. Regarding certifications, this unit has been ETL certified, meaning that the Goodman GSX160361 meets all of the necessary requirements and regulations to be suitable for retail on the north American market. Additionally, this unit also benefits from an AHRI performance certification, lending credibility to the specifications outlined by the manufacturer.
Convenience & Design
With a copper tube, enhanced aluminum fin coil, and a heavy-gauge galvanised-steel cabinet, the Goodman GSX160361 is specifically reinforced so that it can stand sturdily against any challenges that could face it outdoors. Additionally, to fight rust, which is a huge problem for outdoor air conditioning components, the Goodman GSX160361 benefits from an architectural grey powder-paint finish that has been approved by a 500-hour salt-spray assessment. Regarding noise pollution, the outdoor component of this system will produce approximately 73.5dB of sound, which is admittedly a lot higher than the average human conversation, which usually registers at approximately 60dB. However, this unfortunate aspect of the system's design should not be taken as a serious issue, as the noise is not noticeable when indoors, or not in relatively close proximity to the condenser.
Dimensions (Inches)
Height: 38 1/4″
Width: 29″
Depth: 29″
Weight: 225lbs
Help & Support
Similarly to many of Goodman's other central air conditioners, the Goodman GSX160361 benefits from a remarkably generous 10-years parts and compressor limited warranty, which allows the user the added benefit of peace-of-mind should anything go wrong with their air conditioning system. Additionally, Goodman provide their customers with a vast range of useful resources, accessible through the company's official website, including but not limited to extensive FAQs, downloadable user documents, and a dealer locator for finding parts and services. Furthermore, attentive and experienced customer service agents are available via telephone, online contact form, and email.
Verdict
As is typically the case with Goodman's central air conditioning systems, the Goodman GSX160361 can be relied upon to provide the user with effective cooling services, and a level of efficiency that can rarely be experienced with such high output figures. Additionally, one of the most important aspects of this type of air conditioner is their resilience against outdoor wear-and-tear, something which was evidently taken into account by Goodman in the design of this unit, as it boasts many features that allow it to stand against the elements.