Goodman GSX140241 Air Conditioner 2021
Last Updated: January 1, 2021
Browsing the air conditioner market can be tiresome, check out our Goodman air conditioner review where we try to make things easier for you.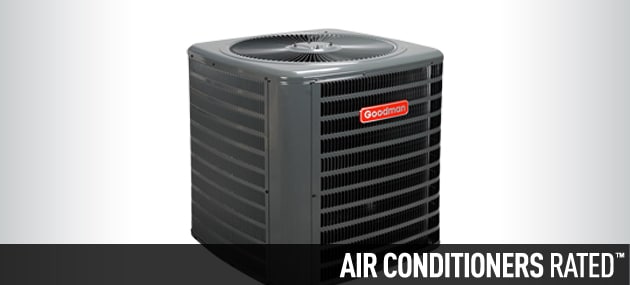 Today our team of experienced HVAC analysts will be reviewing the Goodman GSX140241 central air conditioner. Assessing the system under a wide range of criteria, we hope to showcase all of this unit's strengths and weaknesses, bringing you all the unbiased information you need to be aware of before investing in an air conditioning system, so you can make an informed decision based on your own needs. Check out our full air conditioner review below for more information.
Goodman GSX140241 Air Conditioner Review
Cooling Performance
With a 2 ton cooling capacity, the Goodman GSX140241 is capable of providing the user with up to 24,000 BTUs of cooling power. Therefore, this central air conditioner is suitable for installation in large residential or commercial spaces.
Efficiency & Certifications
The Energy Efficiency Ratio (EER) of a unit provides an accurate measurement of how efficiently a unit may be expected to perform. Taking into account the energy consumption and performance output of a unit, the higher a unit's EER, the more money you are guaranteed to save on your energy bills. The industry's average EER currently stands at 9.7, with any unit scoring over 10 being considered to be highly efficient. Additionally, this unit also boasts a SEER of 14-15.
Regarding certifications, this air conditioning system has been ETL certified, which states that this unit meets all standards and regulations required to be suitable for retail on the North American market. Additionally, the Goodman GSX140241 is AHRI certified, which guarantees that this unit will perform as promised by its published specifications.
Convenience & Design
With a noise output of 71dB, the Goodman GSX140241 is significantly louder than the average human conversation, which would usually register at approximately 60 dB, however as this noise is emitted from an outdoor unit, it will not negatively affect the overall user experience. As is typically the case with Goodman air conditioners, this system also benefits from numerous design aspects that distinguish this product from its competition on the market, such as a copper tube and aluminium fin coil, alongside a steel louver coil guard. Additionally, for robust performance, this system's cabinet benefits from a heavy-gauge galvanised-steel cabinet.
Dimensions (Inches)
Height: 27 1/2″
Width: 26″
Depth: 26″
Weight: 200lbs
Help & Support
Benefitting from a generous 10-years parts and compressor limited warranty, the Goodman GSX140241 is backed by a coverage plan that is more than adequate. Additionally, Goodman provide their users with a wealth of additional online resources that prove invaluable in the case of crisis. These include, but are not limited to, in-depth FAQs, an online store/dealer locator, and downloadable user documents. Additionally, experienced customer service representatives are contactable via telephone, email, or online contact form.
Verdict
As is the case with all Goodman air conditioners, the Goodman GSX140241 boasts a robust build, with several design features in place allowing this unit to stand sturdily against rough outdoor conditions, providing unwavering cooling support to your home when you need it most. Should your property, be it residential or commercial, be of an appropriate size to warrant installation of a unit of this calibre, we would certainly recommend Goodman as a brand worth counting on to efficiently and effectively get the job done.