GermGuardian AC5350B Air Purifier Review 2020
Last Updated: May 1, 2020
Looking for an air purifier that will both effectively clean the air you breathe, while looking elegant and refined? Check out the GermGuardian AC5350B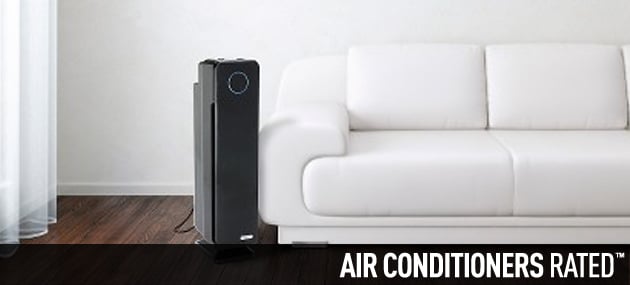 No one should have to breathe in air that is full of pollutants and toxins, and thanks to modern technological advancements, now you don't have to. The days of air purifiers being a luxury product is long gone, with companies like Guardian Technologies introducing new and innovative products to the market at an affordable price. Today, our team is reviewing the GermGuardian AC5350B air purifier, an elegant mix between aesthetics and performance.
GermGuardian AC5350B Air Purifier
Retailing for approximately $143.99, the GermGuardian AC5350B is what we would class this unit as a middle-of-the-market alternative to the more expensive units out there. with aesthetically beautiful design features, partnered with efficient and effective performance specifications, this all-rounder unit is the perfect solution for ensuring that you and your loved ones remain healthy, and free in the knowledge that the air you breathe has been cleared of virtually all toxins. Check out our full review below for the specifics, so you can decide if this unit is truly the one for you.
Cleaning Capabilities
The GermGuardian AC5350B air purifier from Guardian Technologies uses a 4-in-1 system, consisting of an activated carbon filter, a powerful UV-C filter, and a True HEPA filter. This type of configuration is one commonly used by Guardian Technologies as it has proven to be highly effective in some of their other devices.
The activated carbon filter effectively catches large airborne particulates, reducing household odours, while simultaneously protecting the more valuable HEPA filter from potentially damaging intakes. UV-C Technology integrated into this device exposes germs to UV-C light, which destroys their DNA, preventing them from reproducing. Finally, the star of the show, the True HEPA filter catches 99.97% of airborne particulates as small as 0.3 microns.
With a Clean Air Delivery Rate (CADR) of 125+, you can rest assured that the the GermGuardian AC5350B will perform efficiently and effectively, providing a breath of fresh air for you and your loved ones.
We would recommend this unit for use in medium sized rooms of up to approximately 250 square feet.
Efficiency / Certifications
When it comes to efficiency, Guardian Technologies has you covered, with this unit coming Energy Star certified. This declares that the GermGuardian AC5350B adheres to a set of guidelines set out by the Environmental Protection Agency relating to energy consumption. In order to earn this certification, the unit must perform more efficiently than a sizeable portion of the market, meaning the GermGuardian AC5350B will cost you less than many other units to run, in proportion to its output.
In addition to coming Energy Star certified, this unit also comes with 5 fan speeds, which allows the user to operate their device on a lower setting when full-power is not required, thus operating the device more efficiently.
Note: As there are no safety-related certifications for this device, we strongly advise our readers to not leave this unit in operation while you are away. 
Convenience
Unfortunately, this unit does not come with a wireless remote control which means operation must be carried out manually. Omitting this feature is, in our eyes, a major oversight and unfortunately the GermGuardian AC5350B suffers for it.
However, on a positive note, Guardian Technologies makes up for the lack of remote somewhat with an 8-hour operational timer, allowing the user more control over how they want their device to operate.
Finally, one of this unit's 5 fan speeds is actually an ultra-quiet Sleep Mode speed, which is one of our favourite features at Air Conditioners Rated. This means you can operate your device at night without disturbing your sleep.
Design
We are big fans of the GermGuardian AC5350B's design. The exterior casing of this unit is exceptionally elegant with a smooth glossy black finish, wrapping around bevelled corners. The user interface consists of a control panel on the top-face of the device with easily understood controls. Aesthetically speaking, this unit certainly has the "wow factor".
Weighing 11lbs, this unit is quite light for a purifier of its calibre, making it as easy as possible to move this unit from room to room.
The noise level of this unit alters with the fan speed, however while we don't have an exact decibel rating for the GermGuardian AC5350B, we can testify that this unit runs ultra-quietly on lowered settings.
Dimensions (Inches)
Height: 27.56″
Width: 6.69″
Depth:  9.06″
Help & Support
One advantage of purchasing the GermGuardian AC5350B is that users will avail of Guardian Technologies' mammoth 5-year limited warranty, one of the most generous air purifier warranties we have come across in our reviews at Air Conditioners Rated. For more information we suggest contacting Guardian Technologies customer service lines via telephone, email, and social media.
Other resources provided on the Guardian Technologies official website include an in-depth FAQs section, and downloadable user manuals, which are exceptionally useful in the case of you losing your physical copy.
Verdict
The GermGuardian AC5350B is an exceptional air purifier unit for the price. Combining elegant design, with admittedly limited convenience enhancing features, we must give credit to Guardian Technologies for this unit. While we would have loved to see a wireless remote included in the final design, such oversights may be forgiven when the super affordable price-tag of this product is taken into consideration.