Frigidaire FFRA0611Q1 Air Conditioner Review
Last Updated: March 31, 2021
Our team conducted an analysis of the Frigidaire FFRA0611Q1, in order to provide you with all the details you need to know before purchasing this unit.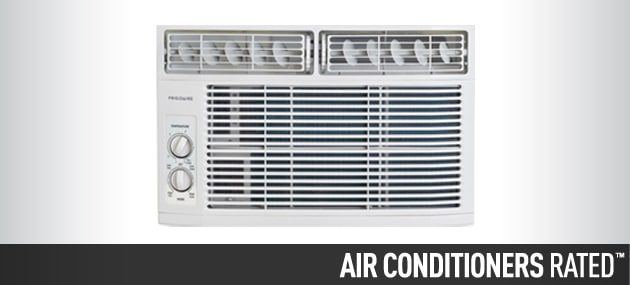 Few companies in the HVAC (Heating, Ventilation, Air Conditioning) industry have solidified their position in the lead like Frigidaire. Their units pepper every list and ranking of the very best the industry has to offer. It is not uncommon to find Frigidaire units at the top of several lists, in fact we would wager they have stolen the gold medal more than any other brand we have come across to date. So what do we expect when we review a Frigidaire product? Well, everything. However, this unit is different.
Frigidaire brings us the Frigidaire FFRA0611Q1; at a lower price than usual, yet missing almost all of the usual features we would expect. Is this the company's noble attempt at providing the public with an affordable window air conditioner, or is it just laziness? Continue reading our Frigidaire FFRA0611Q1 review below to find out what we thought.
Frigidaire FFRA0611Q1 Air Conditioner Review
Cooling Performance
With a reasonably standard 6,000 BTUs of cooling power, the Frigidaire FFRA0611Q1 performs relatively well when compared to other units of its class. Servicing a room of up to 250 sq. ft., this product puts out a maximum airflow of 176 cubic feet per minute. An added bonus of purchasing an air conditioner is always the humidity combatting effects of having one in your home. In this case, the Frigidaire FFRA0611Q1 dehumidifies a living space at a rate of 1.3 pints per hour.
Efficiency / Certifications
With an Energy Efficiency Ratio (EER) of 9.7, this unit falls perfectly on the industry average, which is not considered to be very efficient, however it is tolerable. Unfortunately, this unit does not benefit from an Energy Star Certification either, so we may assume that as far as energy consumption, this unit may not be as efficient as many others on the market.
However, on the bright side, the Frigidaire FFRA0611Q1 has been AHAM certified, and UL listed. These accolades imply that this unit does in fact perform to the standard claimed by the manufacturer, and that your air will not suffer negative side-effects at the fault of the unit.
Convenience
As far as convenience is concerned, unfortunately this unit performs rather poorly, lacking a remote control, and most other standard features we would expect from a Frigidaire unit. There is no programmable timer, or auto mode. Nor is there a Sleep Mode, Auto Restart, or Energy Saver Mode. In fact, quite possibly the only feature this device has is a Fan Only setting, which we would deem to be the least important setting on any air conditioning unit.
Maximum Window Kit Extension (Inches):
Width: 36
Height: 14
Design
With regard to design, the Frigidaire FFRA0611Q1 has a built-in Air Filter, so you needn't worry about airborne particulates, such as dust, or hair. With 4-Way Directional Louvers, the user is enabled to focus the cooling power of their unit on any area of the room that they deem to be the most in-need.
With a noise level of 52dB, this unit is relatively quiet. For reference, the average human conversation would register at approximately 60dB.
Weighing 50lbs, this unit is certainly not the heaviest we have reviewed, however, as always when reviewing heavier units, we would like to advise our readers to always seek aid during installation if dealing with a heavier unit.
Dimensions (inches)
Height: 13 7/16
Width: 18 1/2
Depth: 15 1/2
Help & Support
This appliance is backed by a 1-year appliance warranty, and a 5-year compressor warranty. For more information regarding Frigidaire warranty terms & conditions, we advise that any potential buyer contact Frigidaire directly.
Frigidaire representatives are contactable via email, telephone, and a live chat feature located on their website. Further, downloadable user manuals are available on the same site, in the case of you losing your physical copy. If speaking to a representative directly sounds unappealing to you, there is additionally a detailed FAQs section on the official Frigidaire website that has detailed information regarding commonly encountered issues with their products.
Verdict
While the Frigidaire FFRA0611Q1 is certainly not the flagship of the Frigidaire fleet, admittedly not even close, it is undeniably good at what it is. An affordable, window-mounted air conditioning unit. With virtually none of the bells and whistles we would usually expect from a unit like this, the Frigidaire FFRA0611Q1 is a simpler approach to the air conditioner than we have grown used to accepting from Frigidaire. However, we don't believe anyone can deny that this unit performs well at cooling, and while we may flinch at the lack of features, when all is said and done, we like the simplicity of this unit. From a company with such prestige, it seems obvious that this is their offering to those of us who either cannot afford, or do not require their other, often over-the-top units. This is a simple AC unit, and we must say that we admire Frigidaire for it.