Fellowes Air Purifier AP-300PH Air Purifier Review 2021
Last Updated: March 24, 2021
In the market for a small, yet effective home air purifier? Check out our Fellowes Air Purifier AP-300PH review to see if we've found the perfect one for you.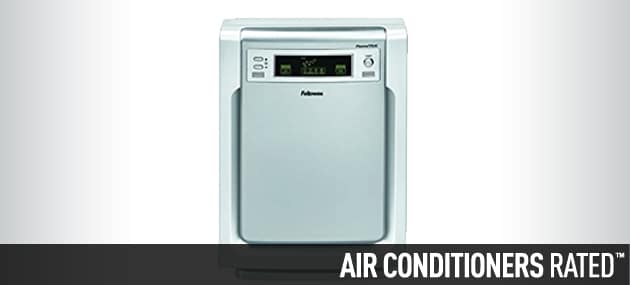 Today, our experts are reviewing the Fellowes air purifier AP-300PH, getting through all of the technical jargon, to bring you all the information you need to know about this exceptional unit. Suffering from allergies? Well, if you have a room of suitable size for this unit, we would certainly recommend that you give the Fellowes Air Purifier AP-300PH a look. Check it out in our full review below.
Fellowes Air Purifier AP-300PH Air Purifier
With the HVAC (Heating, Ventilation, Air Conditioning) market as bloated as it is nowadays, it's easy to get confused with regard to which unit suits your needs best. Well, that's where we come in. We've taken a look at the Fellowes Air Purifier AP-300PH, and pulled out all the information you need to know about this unit in order to make an informed decision on whether or not this unit is the one for you.
Cleaning Capabilities
With high-moderate Clean Air Delivery Rate (CADR) scores, this unit is suitable for servicing a unit of up to 300 square feet, which we would class as a medium-sized room. Unfortunately, there was no information regarding the number of air exchanges this unit undertakes in an hour available at the time of this review.
The Fellowes Air Purifier AP-300PH benefits from a 4-stage filtration system, beginning with a carbon filter, which is engineered to remove odor and catch large particulates. Next, is the HEPA filter, which is the true star of this device's filtration system. This filter will remove the smallest of particulates such as pollen, dust, and other allergens. Following this, is an ionizer filter, which will electromagnetically charge particles as they leave the filtration system. These charged particles are then released back into the air, where they will attract other airborne particulates, which results in a larger cluster of particles, which is easier to catch on the next pass through the system.
However, ionizers such as the one built-into this unit have proven to be controversial in recent years, as they have been shown to leave traces of ozone in the air. This is problematic as ozone has been shown to cause certain lung diseases. While traces of the substance are usually harmless, most purifiers with a ionizer included usually have a way of turning off the ionizer, the Fellowes Air Purifier AP-300PH does not have such a function. Additionally, due to the lack of a 24-hour programmable timer, or any features to regulate operation, this unit will produce ozone continuously when in operation. Therefore we recommend those with respiratory difficulties refrain from purchasing this unit.
See below for this unit's specific CADR scores across a range of criteria:
Dust: 200
Pollen: 201
Smoke: 191
Efficiency / Certifications
Energy Star certified, the Fellowes Air Purifier AP-300PH adheres to a strict set of regulations regarding energy consumption set out by the Environmental Protection Agency (EPA). This guarantees that this unit will cost less to run than many other units on the market. Efficient operation of this device is furthered by the inclusion of four fan speeds, allowing the user to draw the performance required from the unit rather than having it run consistently on full speed.
Other certifications that this unit benefits from include being AHAM certified and UL-Listed. The AHAM certification declares that the specifications published by the manufacturer of this product are accurate, while being UL-Listed states that this product is safe for public use, according to Underwriters Laboratories. Also included in this product's list of certifications is the CARB certification, which guarantees that the Fellowes Air Purifier AP-300PH does not produce unhealthy amounts of ozone, or damage the quality of the air with which it interacts.
Convenience
An air purity sensor allows this device to detect when the level of pollutants in the air warrants operation. When the device's "auto" mode is selected, the fan inside the unit will adjust its performance between the first three fan speeds to effectively clean the air in an efficient manner. The fourth fan speed, as alluded to in the above paragraph, is  "turbo" speed, which is simply a faster fan speed than "high". This turbo setting is useful if the user requires their unit to clean air at a faster pace than normal, although this will consume more energy and thus, prove to be more expensive.
The user interface on the front of the device is relatively easy to use. While the digital display may take a moment to understand, the simple layout of the interface is uncomplicated which means you'll find yourself operating this unit with ease in no time.
Design
Nobody wants a loud air purifier, so potential buyers out there considering this unit should be happy to hear that this unit is barely audible on its lowest operational speed. However, on turbo speed, the Fellowes Air Purifier AP-300PH is quite loud. While no certain decibel-rating was available to us at the time of this interview, we can testify that on its lower settings, this unit will operate very quietly.
Weighing 19lbs, this unit is relatively light when compared to other purifiers on the market, which makes moving this unit around the house quite easy.
From an aesthetics viewpoint, this unit does not stand out too much, sitting comfortably into the backdrop of any contemporary living space. Due to its small size, it's a breeze to find a place for the Fellowes Air Purifier AP-300PH in any typical family living space.
Dimensions (Inches):
Height: 21.88″
Width: 16.50″
Depth: 9.81″
Help & Support
Backed by a 5-year limited warranty, Fellowes is among the leaders of the industry with regard to warranty period length. The manufacturer must be praised for providing such a generous warranty plan. For more information regarding the terms and conditions of Fellowes' warranty policies, we recommend that you contact the manufacturer directly.
If you should encounter an issue with your unit, Fellowes customer service agents are contactable via telephone, email, or through one of the company's various social media presences.
Should you not wish to speak with a customer service representative, there are a range of services available on the company's website, such as an in-depth FAQs section, and downloadable user manuals, which are immensely useful in the case of you losing your physical copy.
Verdict
In conclusion, the Fellowes Air Purifier AP-300PH is a fine choice if you require a purifier to service a small room. Very effective at removing airborne pollutants from a living space, we would deem this product to be suitable for use in cleaning air to an extent required by those of us who suffer from allergies. With its high air exchange rate, we believe this product to be incredibly useful provided it is installed correctly (no air vents are blocked etc.), and in the right sized room (up to 300 square feet).