Danby ArcticAire 70-Pint Dehumidifier Review 2020
Last Updated: March 16, 2020
No one likes excessive humidity, yet many around the world to this day still tolerate its detrimental effects, being harmful to one's health, and one's home. Enough is enough, check out our review of the Danby ArcticAire 70-pint dehumidifier, a unit that will beat back humidity, and reclaim your home for you.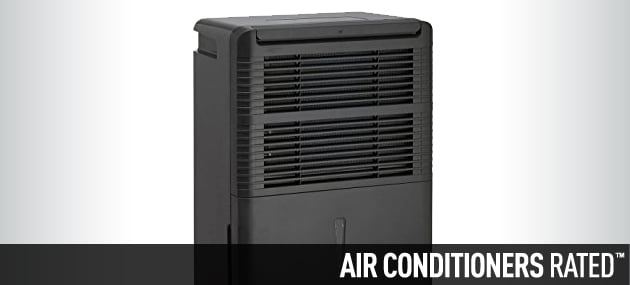 Excess humidity can be a serious nuisance, contributing to numerous health issues, and even causing damage to your home and personal belongings. Well, thankfully, today there is a solution; The Dehumidifier. We had our own team of experienced HVAC analysts assess the Danby ArcticAire dehumidifier, and report back with all the details regarding this product's unique strengths and weaknesses. Interested? Check out our full Danby ArcticAire dehumidifier review below.
Danby ArcticAire 70-Pint Dehumidifier Review 2020
Introducing the latest from home appliance specialists at Danby; meet the Danby ArcticAire, A 70-pint capacity portable dehumidifier. Having assessed this product under a variety of headings, our team reports back with all the notable details you're going to want to know about this device, prior to purchase.
Dehumidifying Capabilities
The Danby ArcticAire is a 70 pint compressor-based dehumidifier Capable of pulling 70 pints out of the air per day. With a moisture removal rate like this, you can count on the Danby ArcticAire to really make a difference in establishing a more comfortable, healthier living space. Further, with a drain hose connection, users can set up their device for continuous operation, which means no more clumsily emptying water tanks regularly.
Efficiency & Certifications
The Danby ArcticAire's power draw stands at 620W in real world testing. One useful piece of information to remember when cashing out for a 70-pint humidifier is that these units actually work faster and more efficiently than their smaller counterparts, thus saving you money on your bills, while also benefitting the environment, so it is truly a win-win. Additionally, should you deem it necessary, efficient performance can be furthered through proper utilisation of this unit's two differing fan speeds, which vary in intensity. By using the unit on the lowest necessary speed, you can save yourself a lot of wasted energy. Finally, carrying an Energy Star certification, we can confirm that this unit is indeed compliant with the Environmental Protection Agency's published guidelines regarding energy consumption.
Convenience
Regarding convenience, the Danby ArcticAire really puts in the work. With an auto de-icer, frost build-up is not a concern, while auto restart will automatically reboot your device in the unfortunate case of a power outage while you are away. Additionally, this product is also capable of functioning at temperatures as low as five degrees celsius, which is often difficult for dehumidifiers.
Design
Balanced on four easy-roll caster wheels and with handles on either side, the Danby ArcticAire is easily moved about the home, regardless of its 45.42lbs of weight. This unit's water tank is also accessible via a drawer located on the front face of the product, making it easily accessible and changeable. On the topic of easily maintained parts, the Danby ArcticAire's air filer is also washable, and removable, for optimum convenience. Last but not least is this unit's noise level, because if we're honest, who wants a dehumidifier that you need to shout over? Well worry not, because the Danby ArcticAire registers at approximately 52dB, which is notably lower than the average human conversation, which registers at about 60dB.
Help & Support
Fortunately, the Danby ArcticAire is supported by a two-year limited manufacturer warranty on both parts and labour. That being said, Danby has made it clear that installation and yearly maintenance are not covered under this coverage plan. Should you require assistance with your dehumidifier, Danby supplies their users with numerous useful resources accessible through thier official company website, including downloadable user manuals and dealer locator. If this isn't enough to solve the problem, experienced Danby customer service representatives are contactable via telephone, email, online web form, or through one of the company's various social media presences.
Summary
Refined, robust, and attractive, the Danby ArcticAire 70-Pint dehumidifier unit is a winner across the board. Easily passing over every hurdle thrown at it, the Danby ArcticAire truly is a fantastic choice for any living space within its stated range. Getting the job done efficiently, all while maintaining an aesthetic appeal that will sit back into any contemporary living space, there is little more that you could conceivably ask of this portable unit. For these reasons, the Danby ArcticAire 70-Pint dehumidifier soundly earns our seal of approval.