CO-Z Dehumidifier Review 2020
Last Updated: March 16, 2020
Compact, sophisticated, efficient. That's our team's view of the CO-Z Dehumidifier. Read the full review more more detail on how this CO-Z unit measures up against the best dehumidifiers of 2020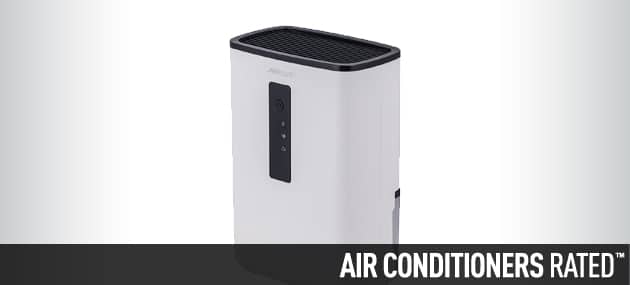 We have reviewed several dehumidifiers here at Air Conditioners Rated. Several of which retail for multiple hundreds of dollars. Many of the dehumidifiers among those costing the big bucks will also demand that you surrender a corner of your room to make space for a large unit. Well, if that's not for you if you would prefer a smaller unit—a much smaller appliance—we may have something for you, retailing for less than $100. Check out our team's verdict on the CO-Z Dehumidifier and how it stacks up against the best dehumidifier units of 2020.
CO-Z Dehumidifier Review 2020
The CO-Z dehumidifier is one potential solution for those of us out there that don't want to make room for some clunky, expensive dehumidifier. Compact, efficient, and sophisticated, today we will be discussing the CO-Z dehumidifier.
Dehumidifying Capabilities
As the CO-Z dehumidifier is only a mid-size thermo-electric dehumidifier, to expect the same results from this unit as you would from a compressor based unit would be foolish. However, as far as thermo-electric units go, the CO-Z dehumidifier punches above its weight. Filtering 2.12 pints of moisture out of the air each day in spaces up to 2,200 cubic feet, we recommend this unit be used in small enclosed spaces. This would maximize results. With a tank capacity of 4.25 pints, the user will not have to worry about emptying the unit multiple times a day if left running non-stop.
Efficiency & Certifications
This unit lacks certifications, however this is the norm for mini-dehumidifiers, so don't freak out when a dehumidifier this small lacks a UL, AHAM, or Energy Star certification. However, this unit does have an auto-stop function, whereby the unit is capable of shutting itself down when the water tank is full. This prevents any overflow or damage caused by excess water. This is also beneficial for efficiency as it will stop the machine from working too much, which is good for your wallet. An automatic humidistat also allows the user to set their own personal preferred humidity level, which the device will then work to maintain. However, one issue reported about this product from a customer was that while plugged in, the power box can get very hot. We would recommend any prospective buyers have a look at other customer's reviews before committing to a purchase.
Convenience
As far as convenience is concerned, this unit is extremely portable, being lightweight, and small enough to place on a shelf. We would recommend this unit be used in smaller spaces, such as a damp wardrobe. By placing this device in the right area, you may be surprised about the results it will yield. However, be warned that simply placing a thermo-electric unit like this is a room that suffers from serious damp will likely not be very effective.
Design
As far as design goes, this unit is incredibly portable due to its lightweight and compact size. It also is quite sophisticated looking, with a smooth white exterior, and blacktop face. The front has a very simple interface to convey information to the user. At the rear of the unit is the removable transparent water tank that can be used for monitoring water levels. In most cases, we would prefer for the water tank to be at the front of a dehumidifying unit, for easy removal. However, due to the size of this unit, it is acceptable, even preferable, that the water tank is concealed from view, at the rear.
Help & Support
No warranty information was available for this product when we searched for it, so this may be a red flag for those of us out there who don't want to risk getting a faulty product, we would recommend that prospective buyers contact CO-Z before committing to a purchase.
As CO-Z is a third party seller operating through Amazon.com, you will have to follow channels through Amazon to contact them. Such as, clicking on their name and then clicking ask a question. Alternatively, you could always go to your orders on Amazon and click "get help with order". Amazon will then help you contact the seller if necessary. We recognize this is not ideal, but sellers of this nature operate differently to your standard company.
Summary
In the end, this unit almost has as many cons as it has pros. It is for this reason that we would not recommend it. As far as thermo-electric dehumidifiers are concerned, this is probably one of the strongest of its kind. However, based upon the public reviews we have sifted through, people are divided over this product. Several testify that it works the way it says it will, while others have shared stories of it not functioning to a high enough standard.
As mentioned above, one particularly worrisome problem is the heat of the power box. This, if true, is a potential fire hazard, and it would be negligent of us not to bring this to our readers' attention. This combined with the lack of warranty information or contact details puts the buyer in a position that we would not advise.
If there are too many "what ifs" about this product for you to the stomach, we have an alternative thermo-electric dehumidifier that we reviewed before that we believe may be a more secure decision. Check out the Pure Enrichment PEDEHUM for more details.