Bryant Legacy 5 Ton Air Conditioner 2020
Last Updated: July 1, 2020
Following on with our review of Bryant's Legacy line of central air conditioner units, today we will be reviewing the Bryant Legacy 5 Ton Air Conditioner, or as we will be referring to it as the 'Legacy 5'. Readers should be aware that not all specifications of this product are represented in this review, merely […]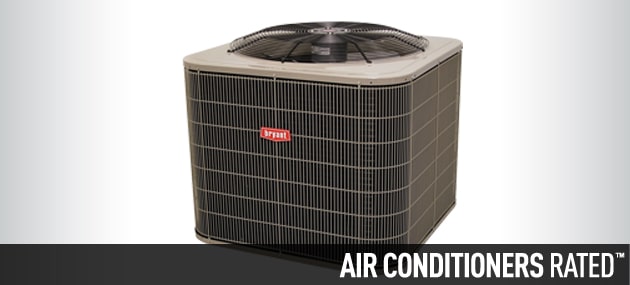 Following on with our review of Bryant's Legacy line of central air conditioner units, today we will be reviewing the Bryant Legacy 5 Ton Air Conditioner, or as we will be referring to it as the 'Legacy 5'. Readers should be aware that not all specifications of this product are represented in this review, merely those we believe to be the most important, and will affect the customer directly.
Bryant Legacy 5 Ton Air Conditioner 2020
Cooling Performance
The Bryant 'Legacy 5' is a single stage central air conditioning unit. Boasting a rated cooling capacity of 60,000 Btu/h, this unit is the most powerful of the Legacy line we have been reviewing. Similar to other units in its line, the 'Legacy 5' runs on a Microtube Technology™ refrigeration system.
We strongly advise that potential buyers hire a specialist to assess their property, to ensure that they buy the right unit that is suitable for their circumstances.
Our readers should be made aware that predicting the effectiveness of central AC units such as this, is especially difficult, as these units are influenced by factors such as seasonal weather changes, location, and building-size.
Efficiency & Certifications
Similar to the rest of its line, the 'Legacy 5' is UL-Listed, yet is lacking an Energy Star certification.
The 'Legacy 5', while lacking the Energy Star certification, fares well in other measures of efficiency, scoring a respectable SEER of 16, and an EER if 12-13.5.
We recommend that you hire a specialist to assess your living space and provide recommendations on what kind of unit would be suitable for you before purchasing a unit this size.
Convenience
The 'Legacy 5' can be hooked up to your traditional thermostat, or alternatively, this system can be hooked up to Thermidistat™ for enhanced convenience. With a sound level of 78dBA, this unit is remarkable quiet for its size. There have been air conditioning units, with far less power and size, that have actually proven louder than this particular unit.
Design
This unit is encased in a solid, durable sheet metal construction, with baked-on complete outer coverage powder paint to prevent rust or corrosion of the unit. A dense wire coil guard is also included.
Weighing in at 5 tons, it is highly recommended that a certified Bryant dealer be entrusted with this units installation. However, should you decide to opt for a different contractor, we advise that you ensure that they are competent, and experienced contractors. This will minimise risk of improper installation, a not-too-uncommon occurrence that will hit the buyer in the wallet.
Help & Support
As far as Help & Support are concerned, the Legacy line of air conditioning units are all covered under 10-year limited parts warranties. However, buyers must be warned that unless they register their unit within the first 90 days of purchase, their warranty will be cut down to a 5-year limited parts warranty.
Bryant also maintain a respectable online customer support infrastructure, with pages on their website dedicated to FAQs, downloadable user manuals, a troubleshooter, and a detailed 'Contact Us' page.
An added bonus of buying from Bryant is access to Bryant's extensive network of dealers, capable of servicing your unit.
Summary
Durable, powerful, reliable, the Bryant Legacy 5 Ton Air Conditioner is an excellent central AC system. It's clear to us that Bryant put time and effort into the design of their Legacy line, and we must say, we are most certainly fans. If you find that you require an air conditioning unit of the calibre alluded to in our Bryant Legacy reviews, we would definitely recommend these models.
However, due to the nature of central air conditioning units, we cannot accurately recommend the right unit for each of our readers individually, it is for this reason that we once again recommend that you hire a specialist to take a look at your home.