Bryant Legacy 3 Ton Air Conditioner Review 2021
Last Updated: January 1, 2021
If you read our portable air conditioner reviews and thought our top picks were too weak for your living space, we're here today to talk about something bigger. Today we will be reviewing another central air conditioning unit. Welcome to our Bryant Legacy 3 Ton central air conditioner unit. Photo Name Price Byant Legacy […]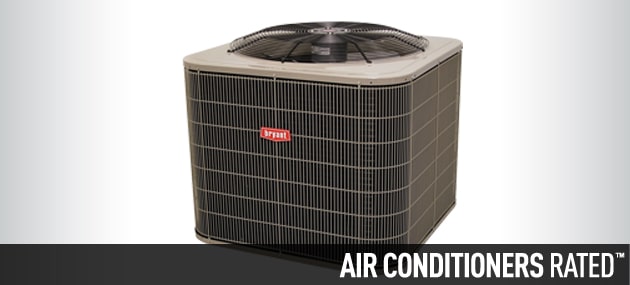 If you read our portable air conditioner reviews and thought our top picks were too weak for your living space, we're here today to talk about something bigger. Today we will be reviewing another central air conditioning unit. Welcome to our Bryant Legacy 3 Ton central air conditioner unit.
Bryant Legacy 3 Ton Air Conditioner 2021
Cooling Performance
The Bryant Legacy 3 Ton ('Legacy 3') boasts an impressive rated cooling capacity of 36,000 Btu/h, which is enough to easily keep your home cool.
However, as we can only make estimates to how well this device will cover your unique property, we recommend that you hire a specialist to assess your home and find out which exact AC unit would suit your circumstances best.
This unit functions on a Microtube Technology™ refrigeration system. A single-stage unit, similar to the 'Legacy 2', this unit is a fine choice, if you seek a unit that will efficiently cool down your home.
Efficiency & Certifications
This unit is UL-Listed, however it does not carry with it an Energy Star certification. Scoring an EER of 11.5 – 13, and a SEER rating of 14, the Legacy 3 performs well with regards to efficiency.
However, it must be said that it is quite difficult to make an accurate estimate of the efficiency of a home central AC, as seasonal change and location may influence the performance of the unit.
Convenience
With a noise level of 77dBA, the Legacy 3 can boast being very quiet for its size. This is essential if you live in a residential area, as you don't want your AC unit bothering your neighbours.
Operating units from the Legacy line couldn't be easier, with Legacy air conditioning units capable of being hooked up to your standard thermostat, or to your smartphone via Wi-Fi, through Housewise™.
All aspects considered, provided your specialist agrees that this size of central AC is suitable for your home, this unit is a fine choice.
Design
Encased in a solid, durable sheet metal construction, Bryant's Legacy line is designed with resilience in mind, with an additional dense wire coil guard.
A baked-on powder paint coating protects the unit from corrosion and rust. Weighing 3 tons, as stated in the title of this review, we recommend that you hire a certified Bryant dealer to install this unit.
However, should you choose an alternate contractor, it is of the utmost importance that you ensure that your contractor is a competent and experienced one. Choosing the wrong contractor may result in improper installation, which will cost you a hefty sum to remedy.
Help & Support
With a thorough FAQ's section on their website, Bryant is also contactable via a 'Contact Us' page on the same site. Other resource include downloadable user manuals, in case you lose your physical copy, and a troubleshooters page.
This unit is backed by a 10-year limited parts warranty, however, you must register your unit within 90 days of purchase, or your warranty will be downgraded to 5 years. We advise our readers to contact Bryant directly if they have any questions regarding warranty policies.
Summary
All aspects of the Legacy 3 being taken into consideration, this is a robustly designed central AC unit. Bryant have gone to lengths to ensure that they are providing a unit that will stand against the elements.
As is usually the case with AC units of this type, all estimates of effectiveness are off until you hire a specialist to assess your property, and give you an individualised recommendation.