Bosch Climate 5000 VRF MDCI Mini VRF Air Conditioner Review
Last Updated: January 1, 2021
Check out our review of one of Bosch's Climate 5000 Series of ductless mini split residential air conditioners, not one to miss if you're looking to efficiently cool a living space of up to 400 square feet.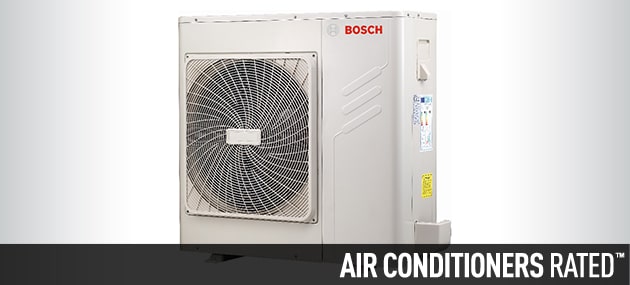 One of the most impressive appliance manufacturers in the market, Bosch, has forged and maintained a reputation for introducing high-quality home appliances to the market to suit a wide variety of needs and purposes. Today we will be reviewing just one of their ever-expanding air conditioning range, the Bosch Climate 5000 Mini Split ductless air conditioner. Check out our full review below for more details.
| | | |
| --- | --- | --- |
| Photo | Name | Price |
| | Bosch Climate 5000 VRF MDCI Mini VRF | Check Price > |
Bosch Climate 5000 Mini Split Air Conditioner Review
Combining efficiency, convenience, and effectiveness, this Bosch Climate 5000 Mini Split is definitely worth consideration if you're browsing the market for an effective alternative to the more expensive up-market units out there. With its range of convenient features, high efficiency-related figures, and adequate cooling output, all boxes are ticked here. Continue reading for our thorough run-down of the pros and cons of this unit.
Cooling Performance
Bringing up to 12,000 BTUs of cooling power to the table, the Bosch Climate 5,000 Mini-Split air conditioner is a great choice for providing cooling services to rooms of up to 400 square feet, or what we would class as a large medium-sized room.
Note: The specs listed in this review refer to the 12K, 115V model of the Bosch Climate 5,000 series. Other models are also available ranging from cooling outputs of 9,000 BTUs – 12,000 BTUS – 18,000 BTUs – 24,000 BTUs. Variable lengths of line sets are also available. 
Efficiency & Certifications
It is clear that Bosch prioritized efficient operation in their design of this device. With above-average EER and SEER scores of 12.5 and 20.9 respectively, this unit smashes through the industry average EER of 9.7 and propels itself into the league of the most energy-efficient mini-split units on the market today. Additionally, this product also comes Energy Star Certified, which declares that the Bosch Climate 5,000 Mini Split is compliant with a set of strict guidelines published by the Environmental Protection Agency, relating to energy consumption. So, it goes without saying that this unit is highly efficient in operation. However, we haven't explained why you should care. In reality, it is quite simple, the more efficient the unit, the less money you end up having to pay in upkeep costs.
Convenience
Moving onto convenience, Bosch has truly outdone itself with the Climate 5,000 series. With the wireless backlit remote control, now you can issue commands to your air conditioning device from anywhere in the room, because you certainly don't want to have to pause your movie, to drag yourself through the clammy hot air, simply to turn up the air-con.
Additionally, another useful feature known as a 24-hour programmable timer has also been included in the Bosch Climate 5,000 Mini Split series. When properly utilized, you'll wonder how you ever lived without this immensely useful feature. Now, set times of operation can be programmed into your unit, a timetable that it will follow to the letter, even in your absence.
As if the operation of this device were not already convenient, Bosch decided to take things one step further, with the inclusion of a number of functional modes, such as 'Silent Mode', and 'Turbo Speed'. The former of these two settings will reduce the noise level of this unit to an ultra-quiet 20dB, or in other words, the noise level of a whisper. Meanwhile, the latter of the two modes mentioned above will enable the unit to work at full capacity, providing cooling at a much faster rate.
Design
With an easily concealed outdoor condenser, the user needn't worry about the installation of this unit interfering with the exterior aesthetic appearance of their home. This type of system consists of an exterior compressor unit, and an interior air handler unit, connected via a piping line. As there is no ductwork required for installation, there is relatively little renovation required for the installation of this system, which is a significant advantage over the larger duct-based systems on the market. Finally, as this system has a total shipping weight of 143lbs, professional transport and installation are required, so it is of vital importance that you select an experienced and competent contractor to minimize the chances of damaging your home.
Dimensions (Inches)
Indoor Unit
Height: 11.81″
Width: 31.65″
Depth: 7.6″
Weight: 18.7lbs
Outdoor Unit
Height: 21.81″
Width: 30.5″
Depth: 13.11″
Weight: 81.6lbs
Help & Support
Backed by a generous limited residential 5-years parts and 7-years compressor warranty, this Bosch Climate 5,000 Mini Split comes with peace-of-mind, supplied by Bosch's above-average warranty coverage period. Should you encounter an issue with your air conditioner, Bosch's customer service representatives are contactable via email or telephone. In addition, there are numerous online resources made available to the user, including FAQs, and downloadable user manuals.
Verdict
With its high-performance figures, the Bosch Climate 5000 Mini Split air conditioning unit is an incredibly efficient choice for supplying cooled air to larger medium-sized living spaces. Additionally, with a moderate range of convenient features, the Bosch Climate 5000 Mini Split is relatively user-friendly. The only issue we encountered in our review of this unit was Bosch's customer service network. While functional, and certainly one of the better networks we have come across in the industry, we would have preferred if they incorporated more modern channels of communication, such as live chat on their official website. Regardless, the Bosch Climate 5000 Mini Split stands as one of the best units of its caliber on the market.