Black+Decker BDT30WTA Dehumidifier Review 2020
Last Updated: March 16, 2020
Black & Decker has been an iconic brand in American life for many, many decades, and in this post, our reviews team has taken a close look at one of the company's best selling products—the Black+Decker BDT30WTA dehumidifier—and how it measures up against the best dehumidifiers of 2020.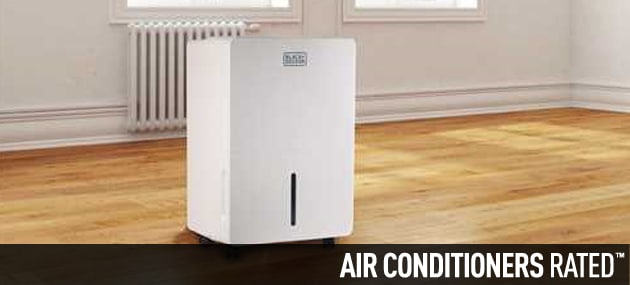 Founded over 100 years ago, in 1910, Black & Decker has maintained a presence in American life for a long time, and in this post, we take a close look at one of their best selling units. Here is our team's take on the Black+Decker BDT30WTA and how it measures up against the best dehumidifierunits of 2020.
Black+Decker BDT30WTA Dehumidifier Review 2020
From humble beginnings during the early twentieth century, to employing 27,000 people today, the story of Black & Decker is truly incredible. But what of the Black+Decker BDT30WTA Dehumidifier? How does this specific appliance measure up to the renown of the brand?
Dehumidifying Capabilities
The 30-Pint Black+Decker BDT30WTA dehumidifier is perfect for smaller spaces, such as bathrooms and utilities, and will only remain effective as long as it  is kept within its ideal range. With a tank capacity of 8.5 pints, users will find themselves having to get up several times a day to empty the unit of collected water. However, continuous drainage is an option, one that we would strongly recommend for this unit.
Efficiency & Certifications
The Black+Decker BDT30WTA is Energy Star certified, which provides a guarantee to the user that this product adheres to strict energy consumption regulations. An adjustable Humidistat is also included in this model, which allows the user to select their preferred relative humidity level from anywhere between 30%-90%. This unit also uses an environmentally friendly R410a refrigerant, and allows the user to pick from three fan settings, to optimise the effectiveness of the device.
Convenience
Black & Decker have included numerous handy features when designing this product. Such as; Automatic Defrost, which automatically removes ice from the evaporator coils inside the dehumidifier when the temperature of the room drops. Another feature is automatic restart which is a relatively rare feature in portable dehumidifiers. This is essentially a back-up for power outages. Should power switch off in your home, your dehumidifier will, in this case, restart itself once power is restored. This allows your unit to get back to maintaining the air in your home before it reverts to an uncomfortable state. Further, Black & Decker included a 24-hour on/off timer to allow for programmable timed use.
Design
Weighing 35.1lbs, with a carry handle and castor wheels the Black+Decker BDT30WTA is very easy to move around. If portability is a big factor, this one is most definitely a good choice if you plan to be moving your dehumidifier around the house relatively often. The compact design of this unit also lends itself well to the units recommended use in small rooms. Due to its size, it won't feel like it's taking up too much space in a small room.
Aesthetically speaking the Black+Decker BDT30WTA is okay. Realistically, to expect anything more from the design could be considered asking for too much. The BDT30WTA is one word. Clean. A white rectangular casing, on castor wheels, smooth surfaces lend simplicity to the unit, allowing it to sit in quite comfortably with its surroundings, no matter what your preferred décor may happen to be.
Help & Support
This product is backed by a one-year warranty for both labor and parts. There is also a five-year warranty on compressor parts online.
As far as support is concerned, Black & Decker can be reached via Email or phone. There is also an FAQs section on the site. B&D also maintain a presence on basically all major social media platforms, where they can also be reached.
Summary
In summary, this is a fine dehumidifier. Maybe not the most stylish in the world, and of course we'd always like more power from a product, but for what it is, it's fantastic. Black & Decker have included all of the essentials required for the product to function efficiently, which is all you could really ask for in reality. It also should be noted that our criticisms of the aesthetic appeal of this unit are not attacking how it looks, but rather acknowledging the absence of something. How it looks now is fine, however, its the absence of individuality that earns the BDT301WTA our critique in this regard.