Amana 7,000 Btu Portable Air Conditioner 2021
Last Updated: January 1, 2021
Continuing with our reviews of portable air conditioning units, today we will be reviewing the Amana AMAP081AW. This Air Conditioner / Dehumidifier hybrid is a sleek, and affordable alternative to some of the more expensive units on the market. This is one of the most convenient portable air conditioner units we have ever come across, […]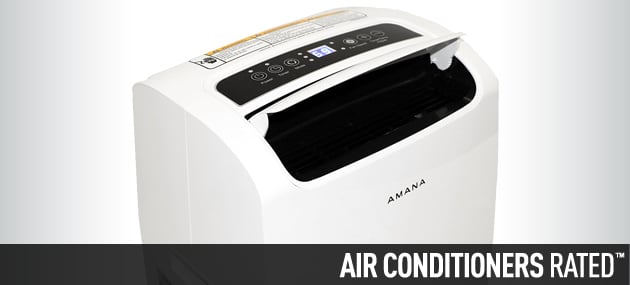 Continuing with our reviews of portable air conditioning units, today we will be reviewing the Amana AMAP081AW. This Air Conditioner / Dehumidifier hybrid is a sleek, and affordable alternative to some of the more expensive units on the market. This is one of the most convenient portable air conditioner units we have ever come across, at the sole sacrifice of efficiency. Read on below for our full review.
Amana 7,000 BTU Portable Air Conditioner 2021
Cooling Performance
With 7,000 BTUs of cooling power, the Amana AMAP081AW portable air conditioner is capable of cooling a space of up to 250 sq. ft. with an added dehumidification of up to 1.5 pints per hour. This makes it best suited for small to medium sized living spaces.
Efficiency & Certifications
As far as efficiency is concerned, unfortunately this unit is not Energy Star certified, and with an Energy Efficiency Ratio of 8.3, this unit falls below the 9.7 average score. This means that the Amana AMAP081AW may not adhere to regulations regarding energy consumption in the United States. This could prove to be quite expensive for the user, although it goes without saying that the cost of upkeep will reflect how much the device is used.
Convenience
With a portable remote control and 24-hour programmable timer, this unit is exceptionally convenient to use. One particularly useful feature that you do not often see in portable AC units is the Amana's ability to sustain an approximate temperature. It does this by switching to the fan function when it detects that the room is becoming too cold. Furthermore, this unit has two fan and air conditioning speeds, giving the buyer even more control over the cooling of their home. A window exhaust kit is also included with this unit.
This unit also comes with a built-in dehumidifier, which is a fantastic innovation on Amana's behalf, especially if you live in a hot and humid environment.
Another fantastic aspect of this product is its maximum sound only reaching 53dB, which is very impressive. For reference, an average human conversation would stand at around 60dB
Design
The Amana AMAP081AW is designed for optimum portability. Weighing 45.9lbs, this unit is easily moved around the house on its easy-rolling caster wheels. Handles on the sides of the device, and a 6-ft. LCDI power chord also allow for enhanced portability. An electric control panel at the top of the unit also allows users to select which mode they would like, program the built-in 24-hr timer, and adjust what temperature they would like to be maintained.
From an aesthetics point of view, we really like the design of this device. A smooth, white encasement gives the unit an air of class. The smooth curve of the top-face, helps the Amana AMAP081AW sit comfortably into any living space.
Help & Support
The Amana website has a thorough 'Owner Center' section, where they have included a troubleshooter, user manuals, service plans, FAQs, and information on parts. Amana's customer service team is contactable via phone, email, live chat, and even social media sites such as Facebook, and Twitter.
No warranty information was readily available for this product, however if you have any questions, we advise contacting Amana directly, where they will be happy to any warranty related questions.
Summary
In summary, we believe this unit to be a superb example of all that a portable AC unit should be. The effort put into design and performance alike is something we greatly admire at Air Conditioners Rated. As far as middle-range portable AC's are considered, we would cite this as one of the best we have come across in our reviews. We believe this unit to be perfect for a small-medium sized living space.